From 😘 to the open-inducing ⛄, there are heaps of emoji to choose from, but not all of them show up properly on different mobile devices and email clients. If this happens, subscribers may see this ▢ or just the word 'emoji' instead of your intended icon. That's makers marketers feel 😢.
Email client support for emoji
As marketers, we have to keep in mind that there are many different email clients out there like Outlook, Gmail, Apple Mail, Thunderbird, etc. And, all these email clients don't render email the same way (wouldn't that be a dream!)
Because we can't force all the email clients to play nice and render our emails the same way, it's important to know that your emoji may look different in the different clients. So how do you know which email clients are particularly problematic for emoji?
To see what would happen when we included emoji in our email subject lines, we tested a variety in the most popular email clients and found they were generally well supported: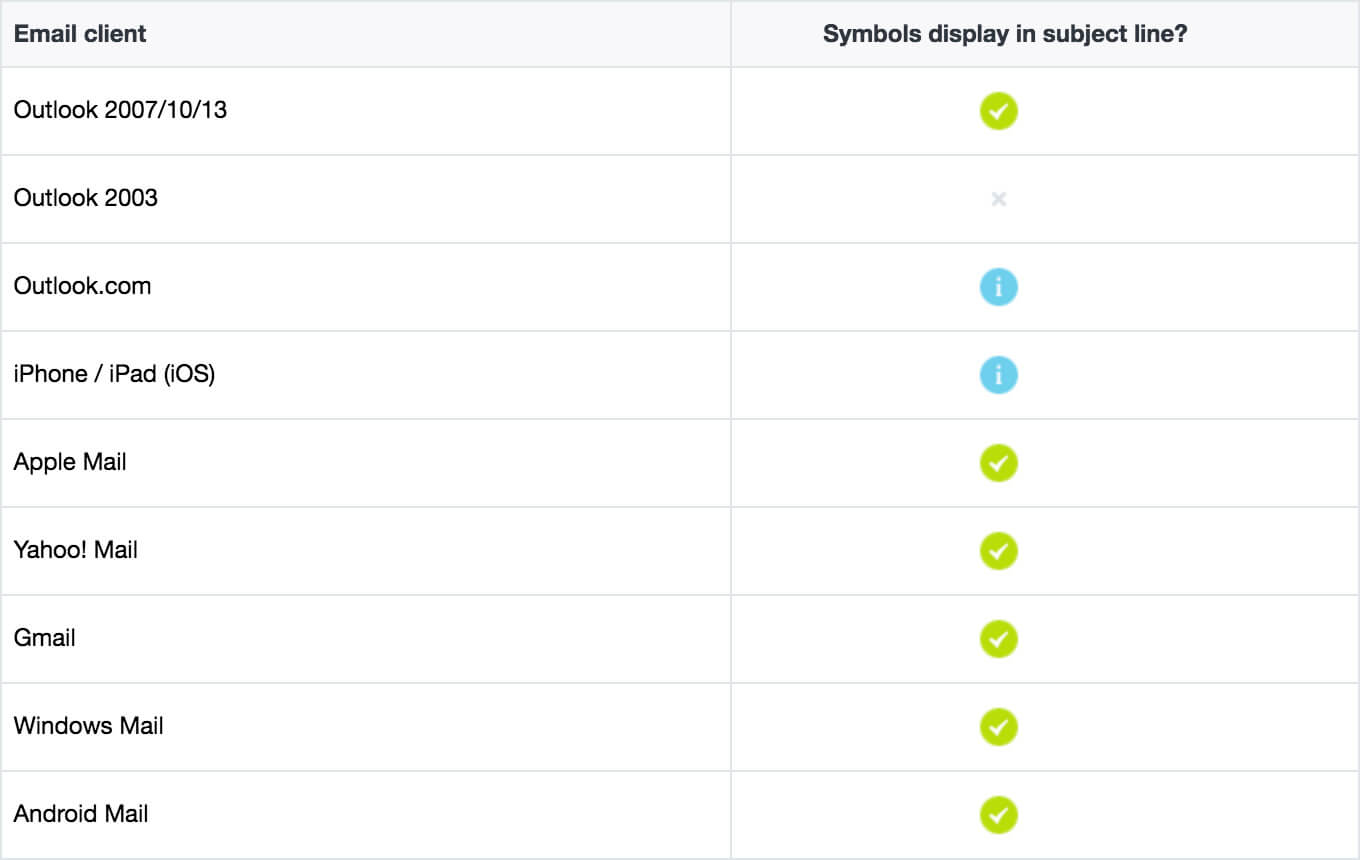 With the exception of Outlook 2003, there was near-universal support. Outlook.com and iOS devices included an additional twist – instead of displaying the basic characters, some symbols like ❤ are replaced by the word 'emoji', or a small graphic instead.

With an Android device, you can insert an emoji using the appropriate button on the standard Android keyboard. However, emoji inserted in this way will be visible in Inbox on Android but not necessarily in the web version.
Keep in mind that if a emoji isn't supported in the email client, the recipient may see a ☐ character instead.
Remember: Gmail has to have some extra special considerations when using emoji. You may notice in Gmail when you use emoji in the subject line the icon will look different in the inbox view and after the email has been opened. This is due to the inbox view using the Android version of the emoji, meanwhile, the opened email view uses Google's own emoji style. While the emoji basically look the same, it's still worth testing to make sure the same sentiment is expressed in both versions.
In addition, for Inbox by Gmail, it's currently not possible to insert emoticons in Inbox messages using the browser version.