To help you elevate your transactional emails to the level of quality as all your marketing efforts – and drive additional sales and revenue in the process – we've compiled a list of 5 types of transactional emails your business is likely already sending and provided some best practices for optimizing them.
1. Registration Email
A registration email is sent when a user first creates an account on your website or in your application. Common examples include a welcome email when you sign up for a web service for business, a mobile application such as a banking app, or an introductory email when you signup for an online dating site.
Campaign Monitor customer BuzzFeed does an excellent job welcoming new users to their website. The email is on-brand, clean, and clear with one key call-to-action: logging in. A secondary link is to the BuzzFeed community, which will help onboard their new contributors faster.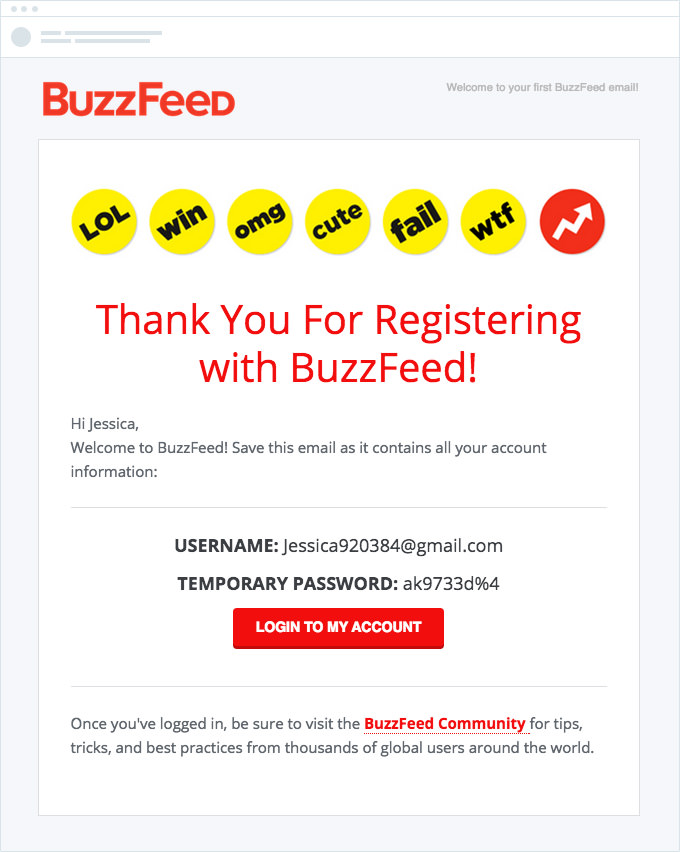 When implementing a registration or welcome email for your organization, keep these best practices in mind:
Give people their credentials – Research shows that most people have 5 or more login credentials they need to remember, and that 38% of adults think it would be easier to solve world peace than remember all their passwords. So to help these people out, make sure to include information on how they can sign in to their account, such as their login URL and username. This means they'll always have it available when they inevitably forget the details.
Help With Getting Started – Particularly for web & mobile applications, onboarding your users efficiently is a critical part of acquiring new, paying customers. Use the registration email to provide links to videos, articles & tutorials that they can use to familiarize themselves with your product and get started using it. This can help increase the number of people you convert into paying customers and help grow your business.
2. Notification Email
A notification email alerts the user when a relevant action or event takes place in your website or application. Common examples include notifications that you've been tagged in a photo on Facebook, that your package has shipped, or the king of all transactional emails: the password reset.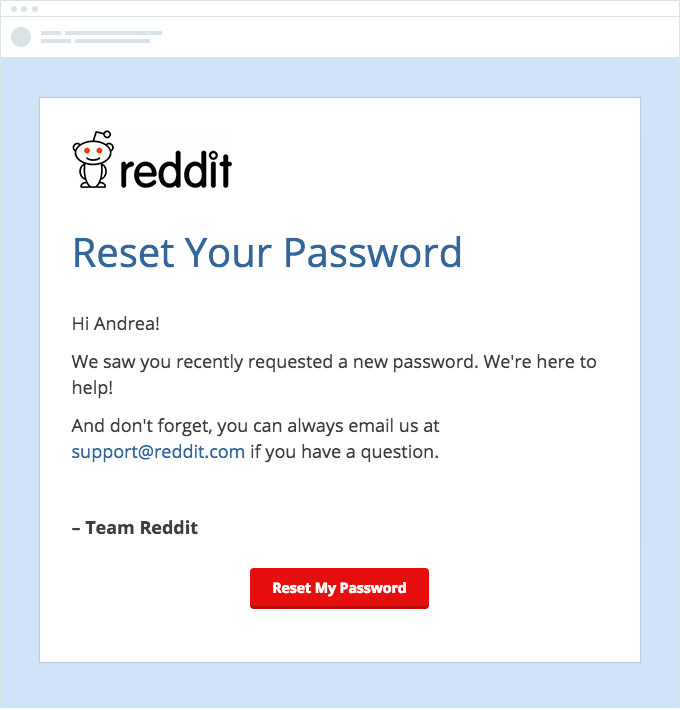 When users request a new password, they want it fast, so complexifying the email isn't recommended. Reddit's password reset email is a great example of how to deliver what the user needs in a branded, clear way: the giant, red "Reset My Password" button is the focal point of the email.
When sending a password reset email and other types of notification emails, keep in mind the following tips:
Include relevant, personalized information – In order to make your notification emails as useful as possible for the recipient, make sure to include all relevant information about the event you are notifying them of. For instance, if your email is notifying people of a new comment, ensure to include information like commenters name, the comment itself, when it was posted, and so on. This gives users all the information they need to take action, and helps ensure they do so.
Provide a clear next step – Notification emails are a great way to drive people back to your website or application and increase usage, so provide a clear next step for the recipient to take. Reddit's notification email above is an excellent example – the big red call to action button that reads 'Reset My Password' leaves no doubt what the recipient should do next.
Align your emails with your brand – Transactional emails, and particularly notification emails, can often be the most frequent point of contact you have with your customers. Because of this, you need to make sure they are aligned with your brand's colors, fonts and tone to ensure customers have a consistent experience with your organization at every touchpoint.
3. Confirmation emails
A confirmation email is designed to notify the user when a specific action, initiated by a person, is complete. A receipt from an online shopping purchase, a confirmation your hotel room has been booked, or in the case of Campaign Monitor customer South By Southwest: a ticket purchase confirmation.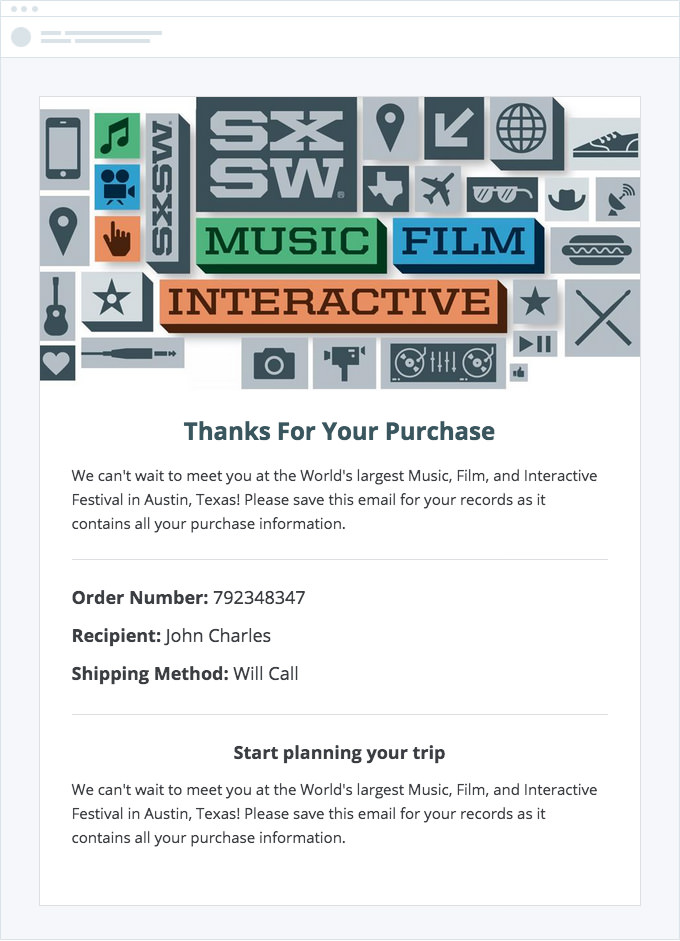 The email contains the key information that SxSW's customer will need to attend the event: the order number, ticket delivery method, and resources to start planning for the event.
When optimizing confirmation emails for your organization, make sure to incorporate some of these best practices:
Optimize for Mobile – In this day in age, most people don't print their confirmation emails like they used to. Rather, they will save the email in their inbox and refer to it when needed – more than likely from their mobile device. Because South By Southwest uses Campaign Monitor to build and send their email, all correspondence to their 400,000+ subscribers is automatically optimized for mobile.
Provide Helpful Resources – Given that people receiving these emails have likely just had a positive transaction with your brand, there's no better time to point them toward helpful resources that will make them even more successful. In the South By Southwest example, information about the event's shows, films, and leadership programs is included so attendees can get a head start on the planning process.
Utilize a Referral Purchase – since your customer has just made a purchase and likely has a positive impression of your brand, it's a great opportunity to ask for referrals. If you have a "refer-a-friend" program, point your customers toward it. Or, ask your customers to post a review about their experience to social media or a relevant feedback website.
4. Feedback Email
While most transactional emails provide relevant information to recipients, a feedback email requests some form of feedback on a recent transaction they had with your organization.
You have probably have been asked to submit a review about products on online, rate a recent online shopping experience, or leave ratings on movies you may have watched on Netflix or similar services.
Campaign Monitor customer Fiji Airways prides itself on providing a superior travel experience, and their survey email does an excellent job requesting feedback in a professional and branded way.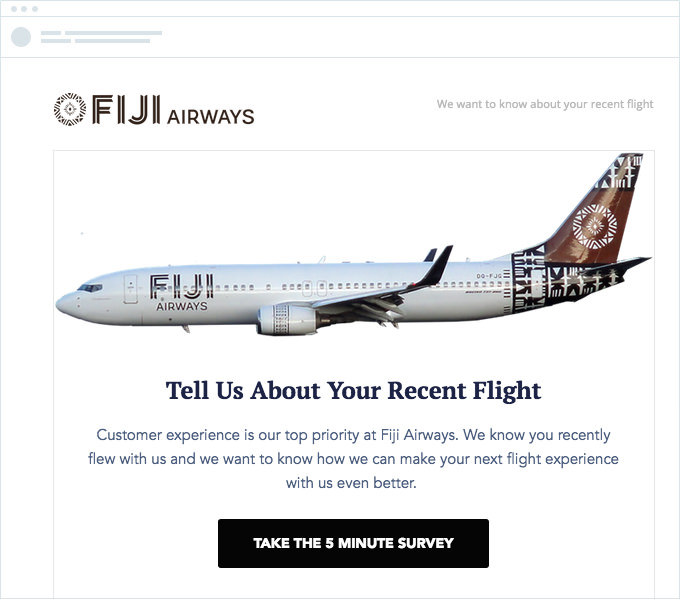 When optimizing feedback emails for your organization, make sure to incorporate some of these best practices:
Provide context – It's important to provide information on what you are requesting feedback about, particularly if your feedback email comes some time after the original transaction. Fiji Airways accomplishes this well by referencing the recent flight. Optionally, you could choose to include additional information such as date of travel, routes, cost, and more.
Use a prominent call to action button – When we tested using buttons in our email campaigns over simple text links, we got a 28% increase in click-through rate. In order to get people to click-through from your email and leave a product review or feedback, make sure to include a prominent call to action button that makes it super simple to take the next step.
Create a seamless feedback experience – Ensure that the feedback loop is easy for your consumers. Embed the link for feedback prominently in the email and don't complicate the email by including other messages or call to actions. Lastly, the transition from the email to the survey itself should be fluid. Getfeedback is an excellent online survey tool that allows you to create branded, mobile-ready online surveys in minutes.
5. Shopping Cart Abandonment Email
An inactivity email is sent to a person who previously interacted with your website or application, but left before completing a transaction or hasn't been active for a while.
Campaign Monitor's customer Birchbox sends a "cart abandonment" email to its users who place items in their online shopping cart but do not convert. This is an excellent opportunity to drive revenue by reminding customers to revisit their site and complete the transaction.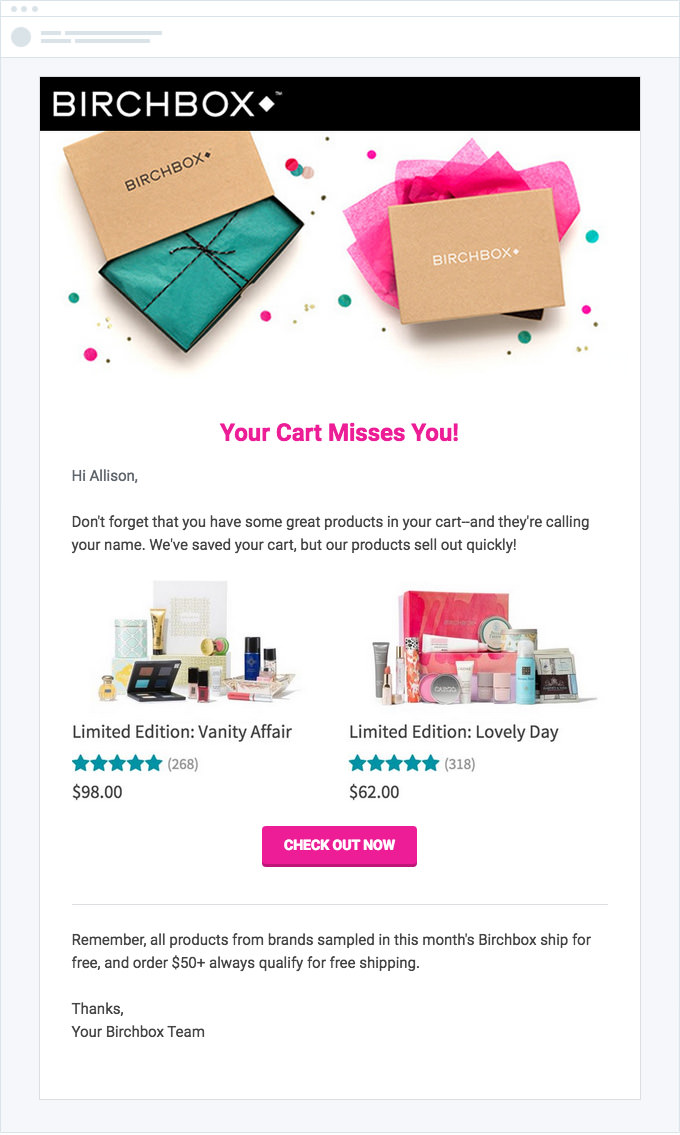 The email is particularly effective because it's sent just hours after the user abandons their shopping cart. It also provides helpful context by reminding the user exactly what they left in the cart – and what they're missing!
When optimizing inactivity emails for your organization, consider these best practices:
Make an offer – If you're reaching out to an inactive user or customer, it's likely that people have become inactive for a reason, and simply telling them you want them to come back won't change that. However, by including an offer like a 45 day free trial or 25% off your next purchase, you can incentivize people to come back to your website or application and start engaging again.
Include a clear call to action – In order to get people to click-through from your campaign and re-engage with your application or website, you need to include a prominent call to action. Birchbox's email above is a great example of this, and the large "Check Out Now" leaves no question as to what they should do next.
Be Timely – Be mindful about when you send the email. In the case of Birchbox, it makes sense to send the email within the first 24 hours, while the product is still fresh on their customers' minds. If you're a software company or provide a service, you may want to wait a week or two before reaching back out so you don't risk coming across as pushy.