With the plethora of email clients out there marketers really have to plan for everything when creating their emails. And we've been lamenting the issue for years with outcries to Microsoft, Gmail and more asking for some relief.
Thankfully, modern email design tools like Campaign Monitor take much of the guesswork out of it and provide a lot of insight before we ever have to push send.
So what are the most popular email clients out there and how do we know which ones our subscribers are using?
Top 10 most popular email clients
The top ten email clients to date are as follows: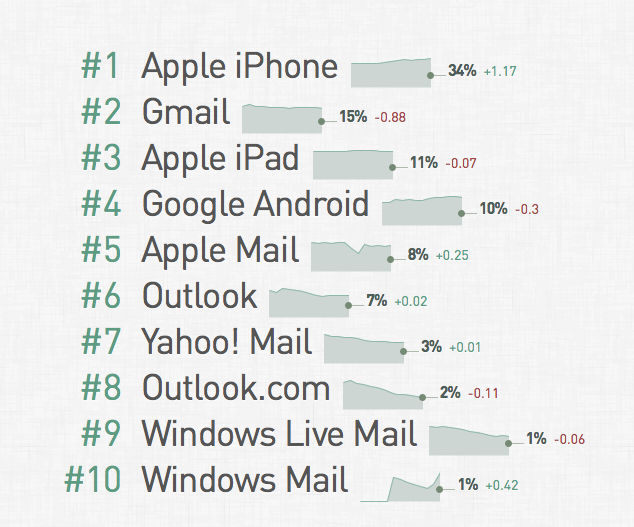 Source: Email Client Market Share: http://emailclientmarketshare.com/
Fine print: This leaderboard of the most popular webmail, desktop, and mobile email clients is compiled from data collected worldwide by Litmus Email Analytics, and displays up-to-date figures for the top 10 email clients. Since determining the client in which an email is opened requires images to be displayed, the data for some email clients and mobile devices might be over- or under-represented due to automatic image blocking.
Which email clients are your subscribers are using?
Each time a subscriber opens an email sent with Campaign Monitor, we keep track of which email client they're using. You can see this in the Reporting section of your account under Email Client Usage.
Here's an example: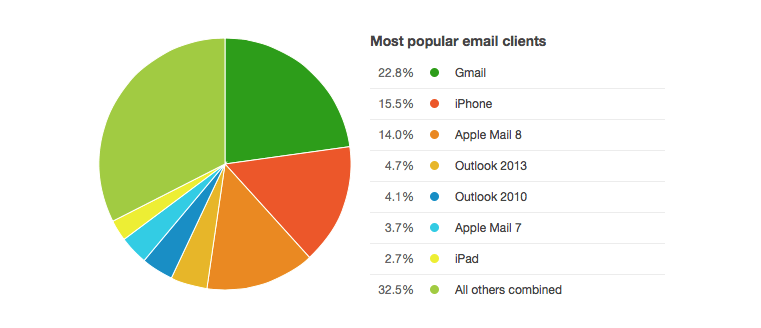 In the example above, understanding that the majority of subscribers are viewing the email in Gmail and on iPhones might help you decide the best length for your email subject lines because 41 characters (portrait view on an iPhone) to 70 characters for Gmail would be best for these subscribers.