If your business has salespeople driving new customer acquisition, then chances are there is a wealth of information in your CRM system that could be used to fuel smart, powerful email marketing campaigns that help close more deals and increase revenue for your business.
Salesforce, the world's most popular CRM, is known for its enterprise sales, marketing, and service platform, but turns to its partner ecosystem for email marketing apps.
By integrating CRM tools like Salesforce with Campaign Monitor, it's simple to automatically sync contact information between the two systems, including a contact's name, email address, sales cycle stage, contact owner, and all of your other custom fields. You can even utilize your custom fields, like propensity to buy or product interest, to target and personalize the campaigns you send.
With these rich customer insights from Salesforce now flowing continuously to your email marketing tool, you can then use Campaign Monitor features to build a modern, on-brand email campaign – without a line of code or ever leaving Salesforce.
All email activity is then tracked right inside the Salesforce contact record, so salespeople have visibility into the email campaigns that marketing is sending and can see how prospects are engaging with those email campaigns.
To help get you started, here are a few ideas for email marketing campaigns you can send to help close new deals and/or drive more business from your existing customers.
Convert Prospects to Customers
According to research, over 50% of leads generated are qualified but not yet ready to buy. As a marketer, it's likely your responsibility to guide these leads down the funnel to purchase. An email marketing campaign is an extremely effective way to do this.
By integrating your CRM and email marketing tool, you can set up a series of automated lead nurturing emails that go out to prospects containing guides, videos, and customer case studies to help them learn about how your product can benefit them, moving them further down the buying cycle until they are ready to be closed by your sales reps.
Here at Campaign Monitor, we use our own email marketing tool to do this. When a potential customer becomes a lead by downloading one of our free content pieces, we synchronize their email address into our Campaign Monitor account and guide them toward trying our email marketing solution.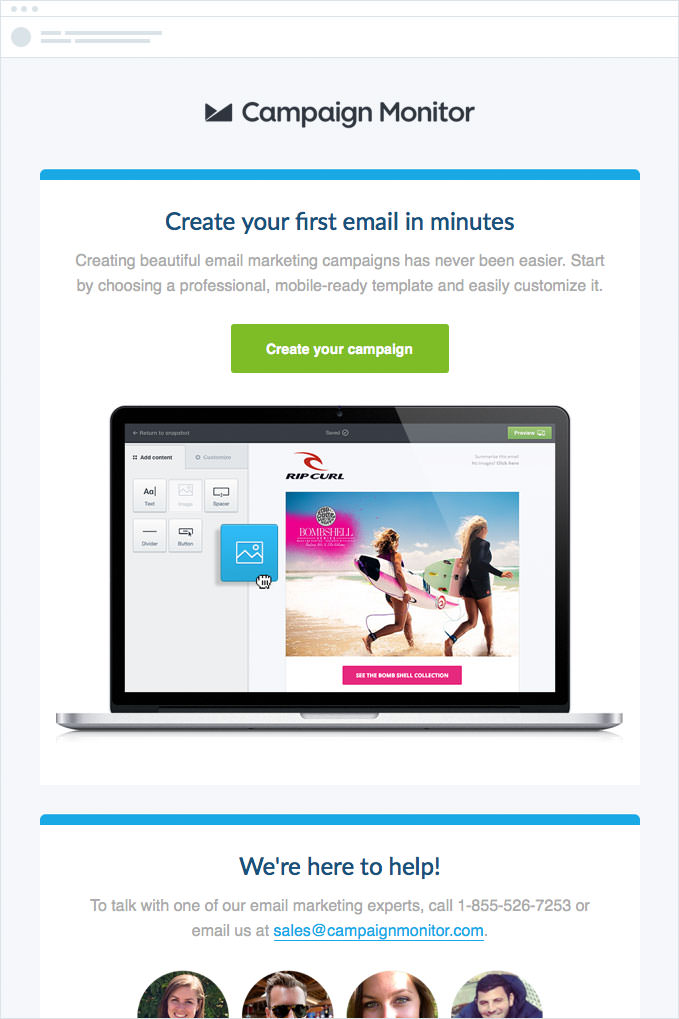 The initial email of the series aims to drive adoption with a clear call to action to create a campaign inside Campaign Monitor. And for those who need assistance getting started, we introduce our team of email marketing specialists and a few ways to contact them.
The subsequent emails in this series contain an assortment of helpful resources – videos, case studies, and more – to ensure those interested in Campaign Monitor feel 100% comfortable using it and understand the value it brings to their business.
Upsell and Cross-sell Promotions
The potential for revenue doesn't end once you've successfully converted a lead to a customer.
Once you've closed a customer, your CRM contains all the information around which products your customers have purchased, enabling you to target certain customers with promotions for other products and services they haven't purchased. By integrating your CRM with your email marketing tool, you can send highly relevant campaign offers about these other products.
If you don't have multiple products to sell, you could also target customers with additional services, such as a paid support option or an additional consulting offering.
Event invitations
Events are an excellent way to educate your prospects about both the value your products offer and to upsell other products to existing customers. Email is the single most effective way to send an invitation to your leads and contacts.
If you're running a live event or exhibiting at a trade show, you can build a targeted campaign by geography. For example, if you're hosting a dinner in Austin, you can easily create an email list containing all your contacts in the neighboring zip codes. This way you target only the individuals who can realistically attend the event.
If it's an on-demand event – such as an online webcast – you can target your contacts based on product interest or where cross-sell/upsell opportunities exist. By integrating your email marketing solution with your CRM, you can create a list with prospects who share the same product interest and invite them to an online event about that topic.
Campaign Monitor customer Soho House is a great example of how to invite contacts to a live event: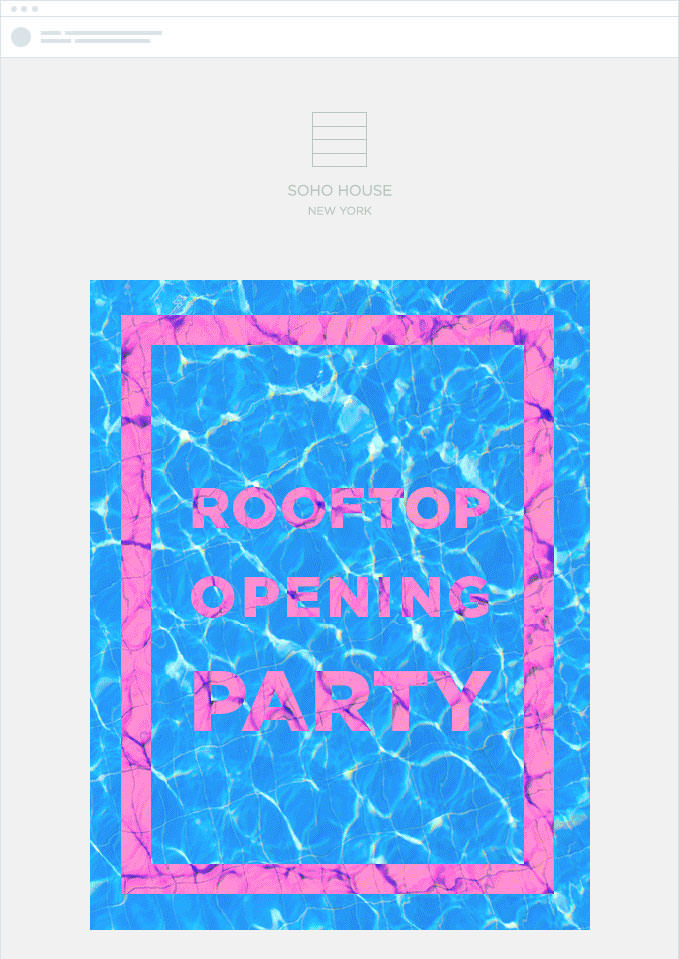 With multiple locations around the globe, Soho House has to be hyper-targeted in how they invite their guests. It wouldn't make sense to invite all their CRM contacts to an event in Chicago. Rather, they can segment their list to invite only those contacts within driving distance of the event by creating an email list by area code.