Now that you've decided on your goals, built a bit of an audience and selected the type of campaign you're going to send, it's time to start building your email.
Email tools like Campaign Monitor, with our drag-and-drop email builder, make it incredibly easy to create beautiful email marketing campaigns, but there are some fundamentals that you should know to make sure you get the best results from each individual campaign.
Structure your campaign for easy reading
Research shows that an adult's attention span is, on average, eight seconds. With such a short attention span, you can assume people aren't closely reading your campaigns word for word and are instead scanning through them looking for something of interest.
Therefore, writing long, text-heavy email campaigns isn't the best approach. You need to structure your emails to help draw people into reading your content while guiding them toward the email's call to action.
An effective way to do this is by using the inverted pyramid model: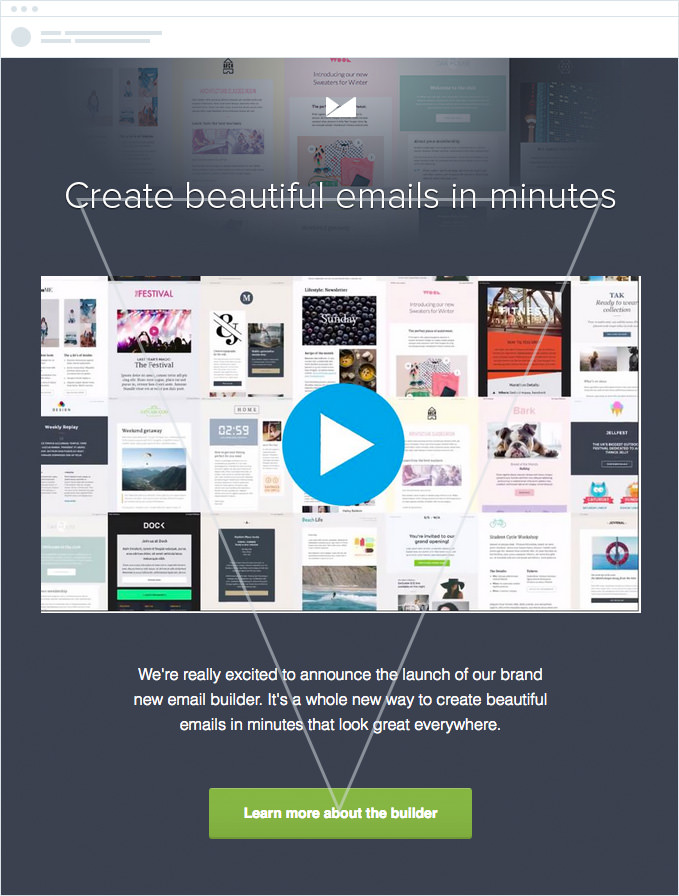 As you can see from the example above, emails following the model contain a succinct headline that highlights the key message of the campaign, as well as supporting information and visuals to help convince readers about the benefits of clicking-through. The reader is then presented with a prominent call to action button that makes it crystal clear what to do next.
By using the inverted pyramid model to structure your emails for easy reading, you'll help ensure your campaigns grab people's attention and get a high click-through rate.
Ensure your campaign is relevant to every subscriber
According to research, campaigns that are sent to segmented lists and contain relevant information can achieve up to a 760% increase in revenue from email.
So instead of sending one campaign to everyone, you should segment your lists and send relevant offers and content to each unique segment.
Global surfwear company Rip Curl understands the value of relevance and executes it well in their email newsletters.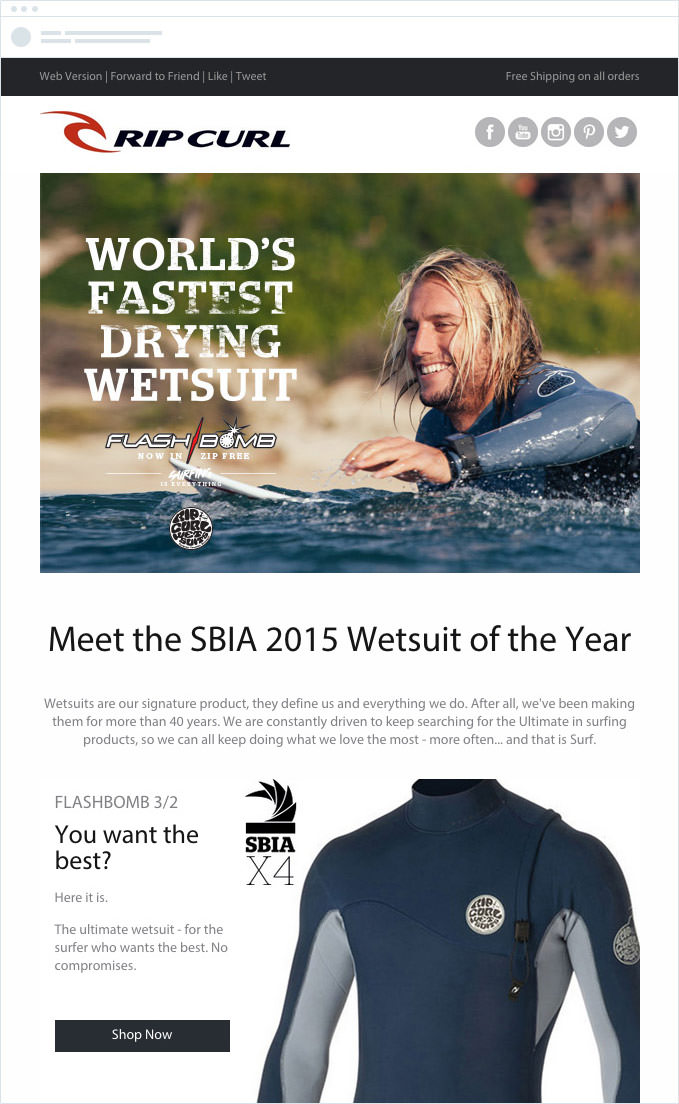 Although Rip Curl sells women's wetsuits and bikinis as well, they know who their male subscribers are so they only send relevant products and content to their male subscribers.
By using features of your Campaign Monitor account, like Segments & Dynamic Content, you can ensure your emails are relevant to every one of your subscribers and increase the chances they'll click-through from your campaign and make a purchase.
Ensure your campaigns are on brand and build trust
It's likely that your email campaigns aren't the only interaction your subscribers are having with your business. In fact, your subscribers probably visited your website or social media page in order to sign up for your email.
Because of this, it's important that your email campaigns are aligned with the colors, fonts and branding you use across all your other customer touchpoints so that your customers have a consistent experience with your brand.
Campaign Monitor customer Freshbooks does this effectively in their email marketing campaigns. The fonts, colors, buttons and even the iconographic style they use on their website are perfectly replicated in their email campaigns.
By ensuring your campaigns are aligned with the branding your subscribers see elsewhere, you build trust that the email is legitimate and increase the chance they'll click-through.
Make it easy to convert
In order to drive your subscribers to click through from your email campaigns, you must make it as easy as possible for them to do so.
According to our own research, 41% of email opens are happening on mobile devices, so if your campaigns aren't optimized across all devices then there's a good chance you're making it unnecessarily difficult for your subscribers to convert.
Check out our own email newsletter as an example: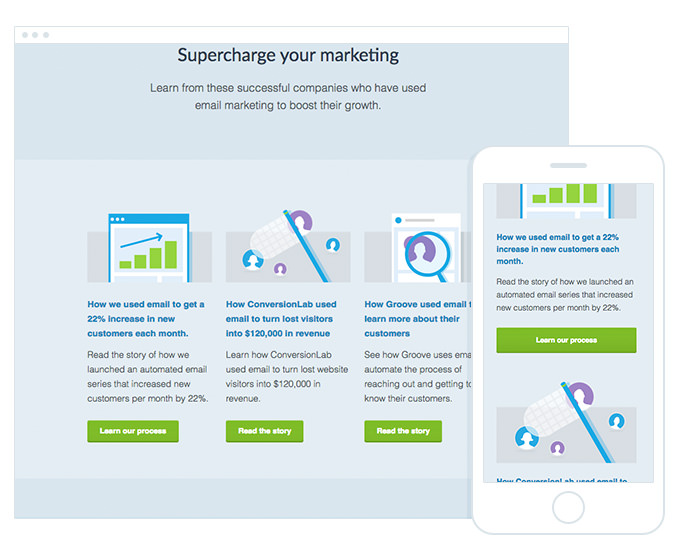 Because the template is responsive, the middle three sections of content stack on top of each other when viewed on a mobile device. This ensures the text and buttons remain a useable size (as opposed to being shrunk down) and make it effortless for subscribers to convert.
By applying these four fundamentals of high-converting campaigns to your first email, you'll be able to create and send a campaign that captures subscribers attention, presents them relevant information and makes it easy for them to convert, and you'll ultimately generate better results for your business.