Because email Automation works on a basic trigger and action system (i.e. when a specific trigger happens, send this specific email or set of emails) you are really only limited in what you can do by your creativity and business needs.
To give you some ideas and help you get started, we've compiled this list of 10 automated emails you can start sending today that will help grow your business.
Welcome new subscribers
According to research, 96% of visitors to your website aren't yet ready to buy. However, these people have clearly shown interest in what you have to offer and are perfect candidates to continue communicating with to try to get them to buy later on.
A great way to do this is to get them to subscribe to your email list. Subscribing to your list is a much smaller conversion action than handing over money to make a purchase, and therefore people are much more likely to do it.
Once they've subscribed, you can then use an automated email campaign to welcome them to your list and offer a special subscriber-only offer that compels them to buy.
Fashion house Kate Spade do this well with their automated welcome email that goes out to new subscribers.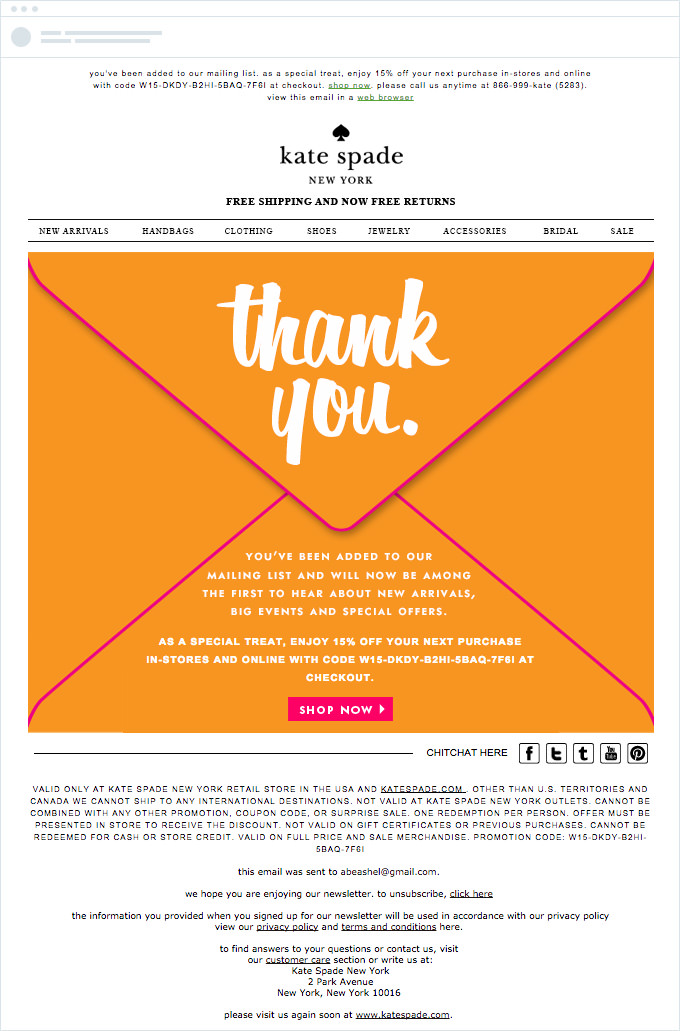 The email is visually appealing, has a prominent call to action and features a subscriber-only offer to get 15% off the next purchase.
This kind of automated welcome email can be set up in just a few minutes. You simply need to add an email subscribe box to your website that adds people to a list in your chosen email marketing tool, and then set up an automated email to go out whenever someone joins that list.
If your eCommerce platform supports it, you can even generate a discount code and include it in the email. Not only does this provide a great incentive for people to purchase, but it allows you to track the effectiveness of the campaign and see the impact it has on sales.
Increase product usage
Most online applications utilize some sort of free trial period to get potential customers to try the product and ultimately become a paying customer.
Before people will convert into a paying customer though, they need to realize the value of your product during the trial period, otherwise why would they start paying for it?
At Campaign Monitor, before a person would consider upgrading to a paid account they need to realize the value of the product. This usually means they need to create a campaign, upload their subscriber list, and send it out.
So in order to encourage people to progress through those steps and realize the value of our product, we utilize a series of automated emails that go out to people when they create an account.
Welcome Email
This email goes to out to everybody that creates a Campaign Monitor account and contains some basic information about their account they'll need moving forward, such as their login URL and email address.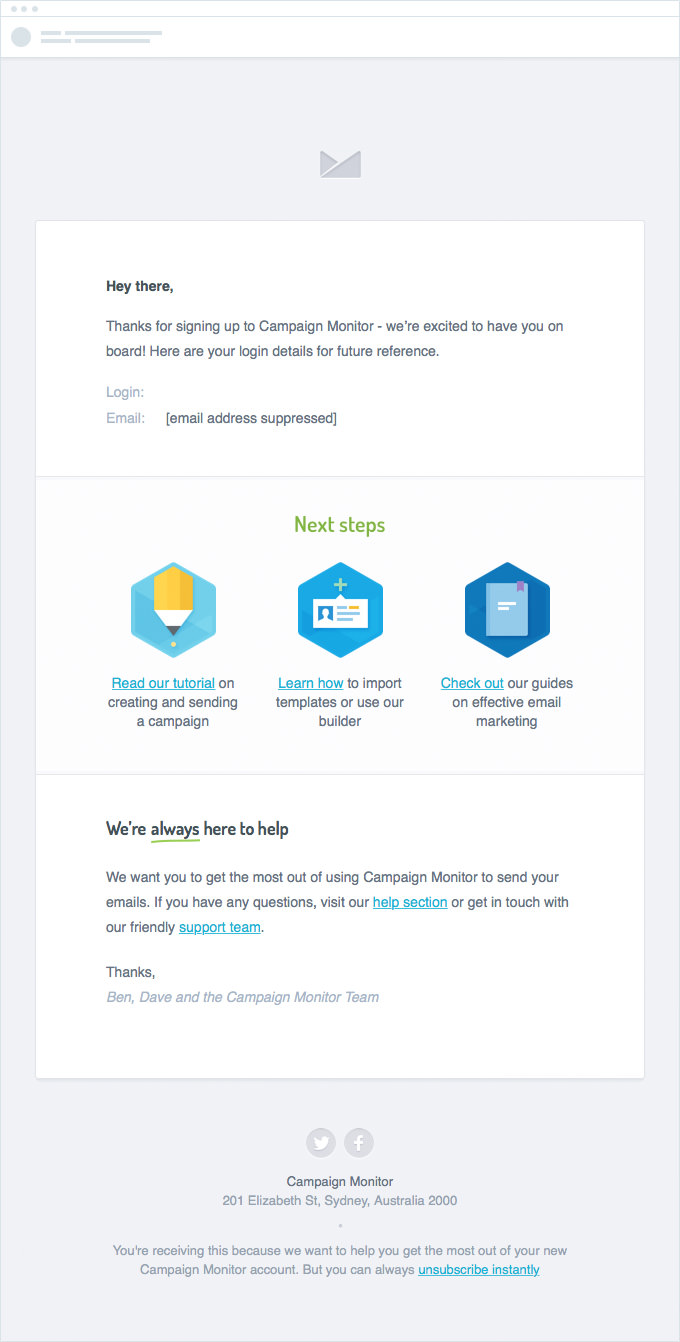 As you can see, the email contains a prominent "Next Steps" section that features some links to help documentation and other tools.
These are designed to help the user get started with Campaign Monitor and ultimately progress through to the first step of creating a campaign.
No Campaign Created Email
If a person has signed up for a Campaign Monitor account but not yet created a campaign, we send them an email encouraging them to do so.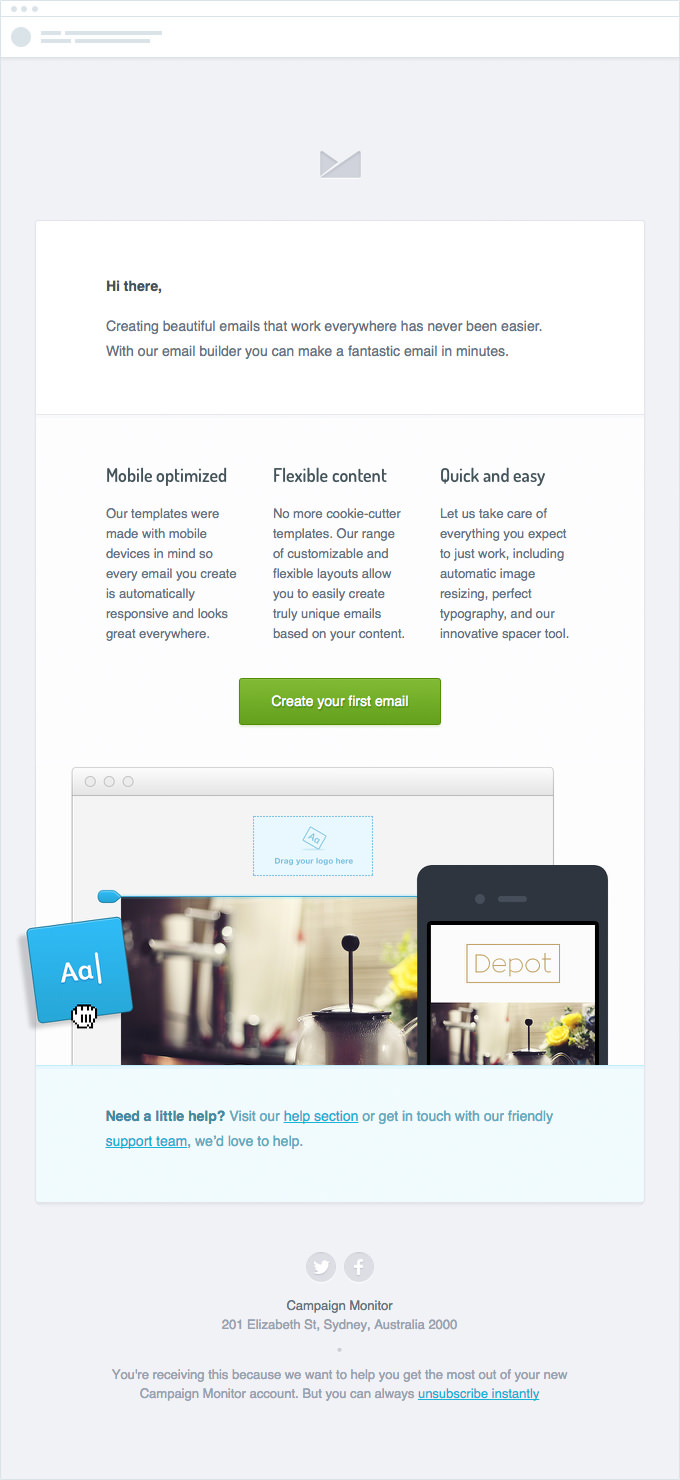 The email focuses on how easy it is to use our email builder to create a beautiful email campaign, and has the ultimate goal of getting people to return to the application and create and send a campaign.
No List Uploaded Email
If a person has created a campaign but not yet uploaded and selected a list to send it to, we'll send them an email prompting them to upload their first email list.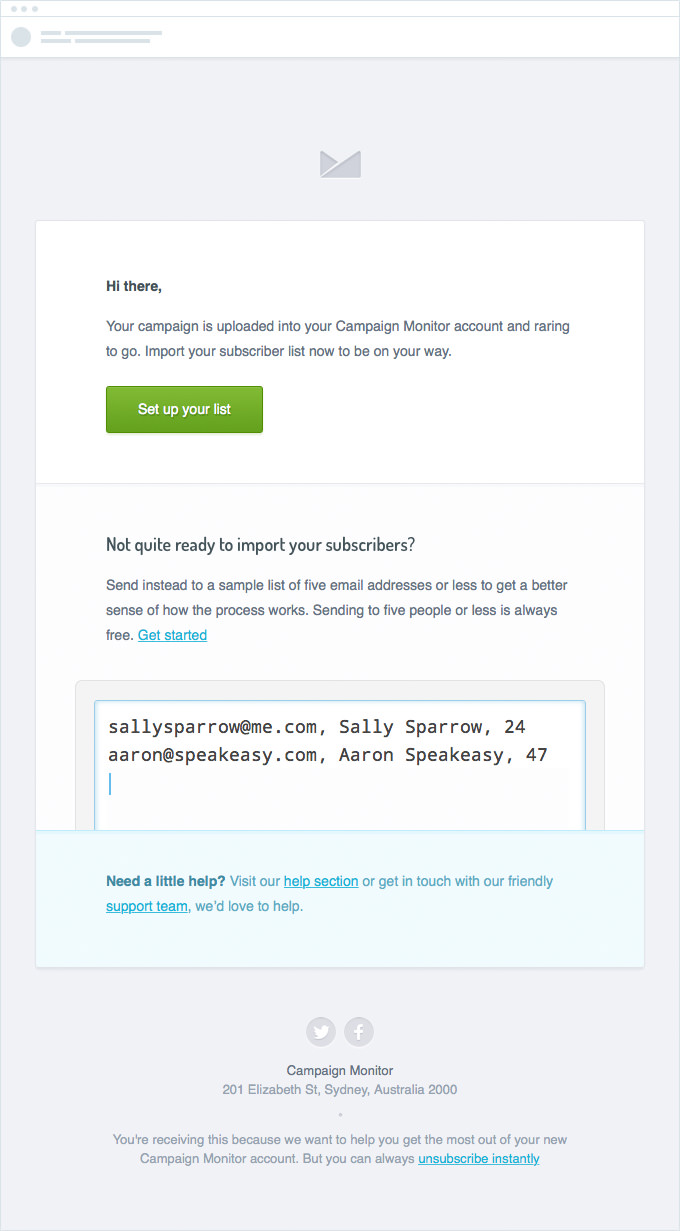 The goal of the email is to get people to go back into the application and finish the process of sending their first campaign. It features a call to action to set up a list as well as an alternative method of sending for those who may not yet have a list built.
These are relatively easy to set up with a little bit of technical knowledge or help from your web developer.
In our case, we started by passing the details of new signups into a list in our own Campaign Monitor account, and then set up the automated welcome email to go out instantly.
Then, once a person has completed a particular event in the application (like creating their first campaign), we use the API to change the 'Created Campaign' custom field to 'Yes' on their subscriber profile. Finally, we set up a custom segment to get a list of people who meet the criteria 'Created Campaign=Yes' and 'Uploaded List=No' and then sent them an automated email encouraging them to upload their list and complete the send.
Although they took a little bit of time to set up, these emails continue to be sent to everyone who signs up for a Campaign Monitor account without us having to lift a finger, and they help to grow our business by encouraging people to progress through the various steps they need to go through to become a paying customer.
Gather product feedback
Building a product your customers want is hard, and it's next to impossible if you don't have a deep understanding of what your customers actually want.
One of the best ways to get a thorough understanding of your customer's pain points and needs is by asking them directly.
Campaign Monitor customer Groove does this particularly well using an automated email campaign that goes out to new users when they sign up for a free trial.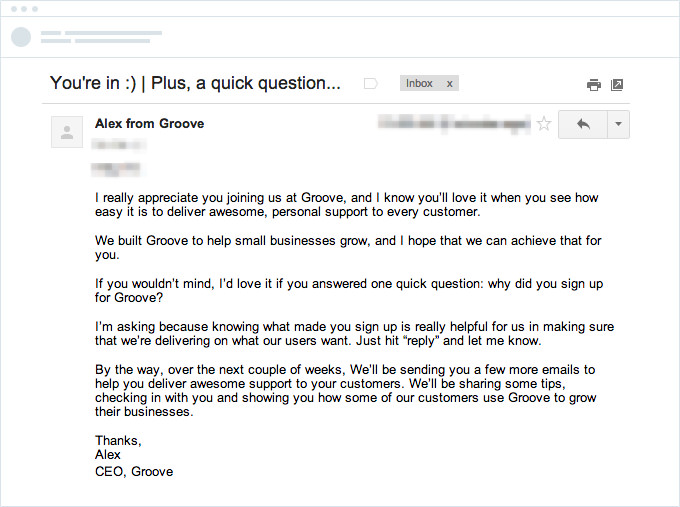 This particular email has a 41% response rate and helps Groove automatically collect a massive amount of feedback on what their customers are looking to achieve with the product, why they switched from competitor's products, and more.
This helps them grow their business in a number of ways. They can prioritize features better because they know what people are using the product for, and they can attract new customers more easily because they know why people dislike competitor's tools and what the key messages to be putting out there are.
The good news is, this kind of email is super easy to set up and you can start getting quality feedback right away. You simply add new customers or trial signups to a particular list in Campaign Monitor, and then set up an automated welcome email to go out to them when they join the list.
You can then either ask people to reply directly with their feedback (like Groove does), or you can link through to surveys created in tools like GetFeedback to get more structured data.
Inform your customers of upcoming expirations
Losing existing customers can cost your business lots of money. In fact, According to Bain & Co, a 5% increase in customer retention can increase a company's profitability by 75%.
One of the best ways to make sure you don't lose a customer's business is to send them email campaigns informing them that their subscription, account, or policy with you is about to run out.
Domain name provider GoDaddy do a great job of this whenever a domain name is about to expire.
They send frequent email campaigns in the lead up to the expiration date reminding customers to renew their domain name, and even provide a discount offer and a simple call to action to entice people to renew straight away.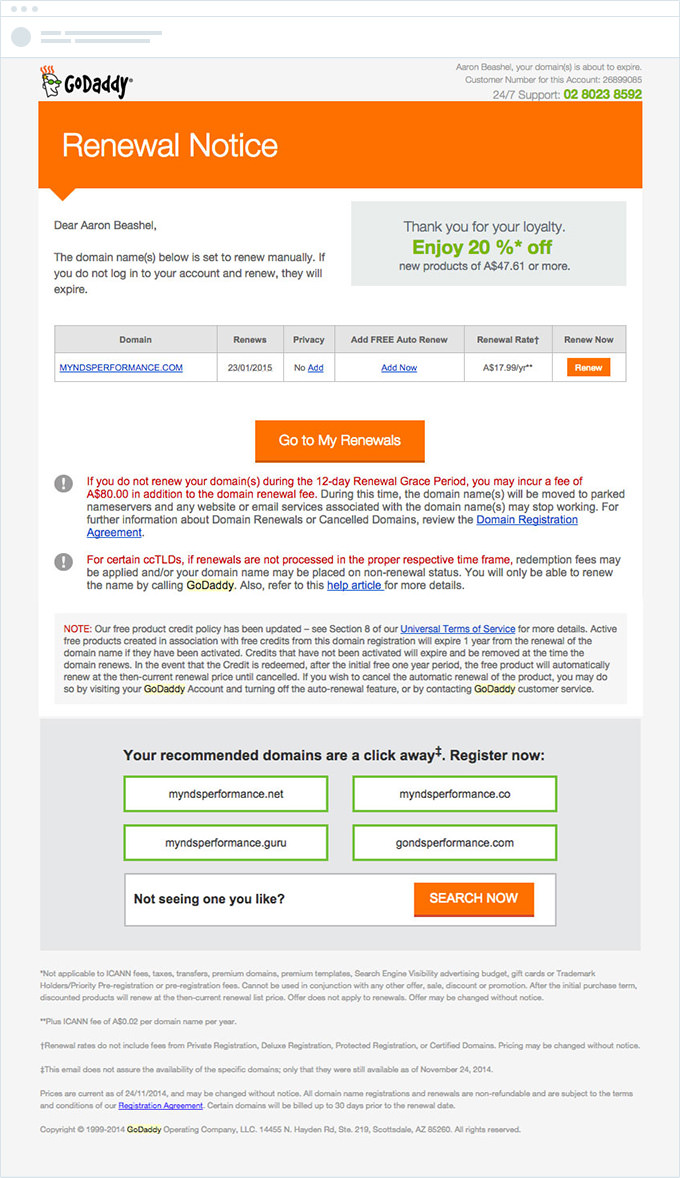 Believe it or not, these emails are quite easy to set up. You simply pass in the expiration date of the person's subscription or account, and then set up a series of automated emails to go out in the days before that date.
These kind of email campaigns are extremely effective at getting people to renew their accounts, and can help you grow your business by generating more sales and revenue from your existing customer base.
Offer customers a birthday surprise
Birthday emails are one of the most common types of automated emails you can send, and they can be extremely effective when done right.
This email from Omaha Steaks shows how it should be done. Not only does the email wish the reader a happy birthday and show they care about their customers, but it provides them with a highly -relevant birthday offer that encourages them to make a purchase.
The beautiful imagery and excellent call to action help to drive conversions too.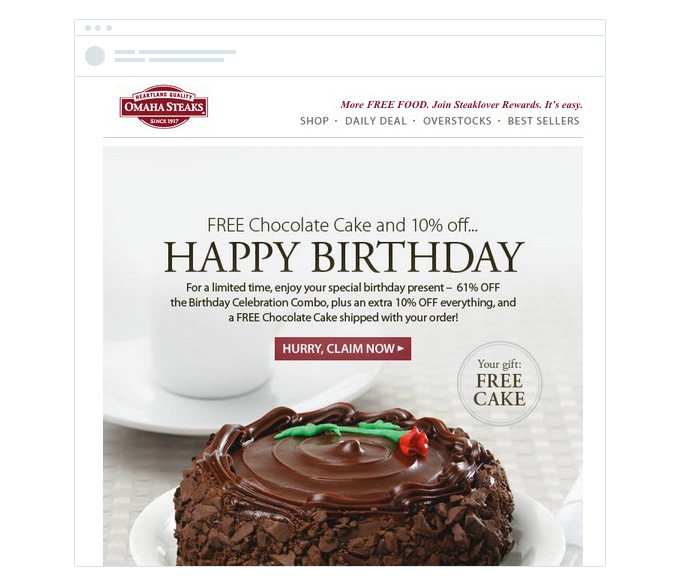 This kind of email is super easy to set up if you have your customer's date of birth. You simply set up a recurring email based on a date, and the email will automatically be sent each time that date rolls around.
Pro tip: If you are offering a restaurant voucher or something the recipient might be likely to use on their birthday as part of the celebrations, best to send it a few days earlier so they can adequately plan ahead.
Send appointment reminders to customers
Repeat business is a critical driver of growth for many organizations. In fact, according to research it costs 5 times more to acquire new customers than it does to keep your existing ones.
One of the best ways to get repeat business from your existing customers is to send them regular reminder emails. This works particularly well for businesses that provide a service people use on a recurring basis, like mechanics who offer regular tune ups or dentists who do routine checkups and cleans.
Denwin Dental do a great job of this with their fun & friendly appointment reminder email.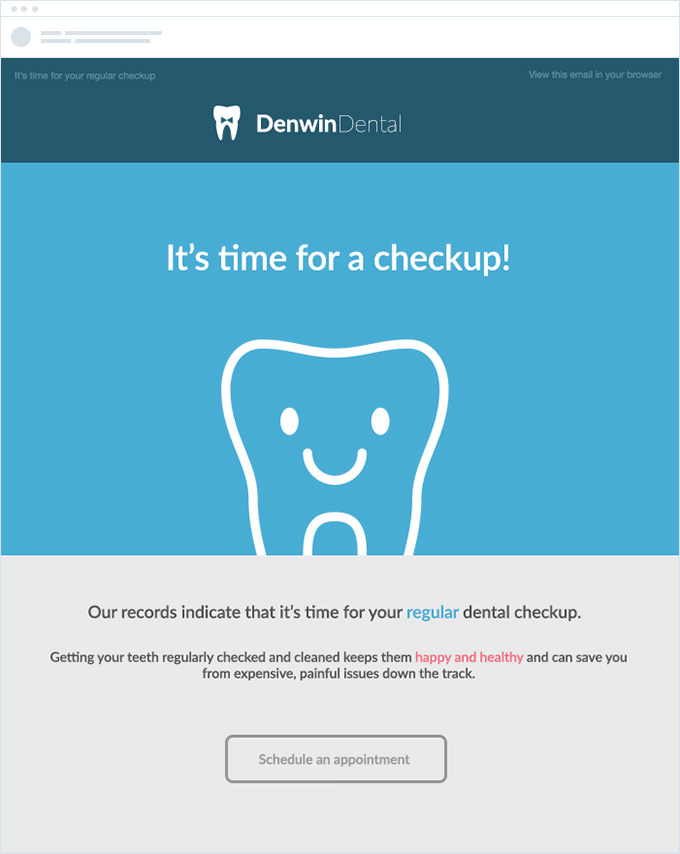 The email is beautifully designed and the inclusion of the smiling tooth and well-crafted copy encourages people to book their next appointment right away.
As long as you are keeping track of your client's most recent appointment times, this kind of automated reminder email is quite easy to set up. Use a custom date field to record when their last appointment time was, then set up the email to be sent 3 months later (or whatever your recurring schedule is) to remind them that they are due for their next appointment.
This kind of email helps to grow your business by automatically reminding your existing customers to come back for another appointment, and helps increase revenue from your existing customer base.
Nurture your leads
According to research, 50% of leads generated by organizations are qualified but not yet ready to purchase.
The challenge with this is, how do you help move those leads along to purchase without spending too much time on them? And how do you make sure your business is top of mind when they are ready to purchase?
Using automation to set up a series of lead nurturing emails can be a great way to do this.
If you are using a CRM system like Salesforce or Highrise to manage your leads and sales, you can tag certain leads that need nurturing and then use a tool like Zapier to integrate those leads with your email marketing system.
From there, you can send a series of automated email messages over time that educate your audience on the benefits of your product and why they should use it.
Popular marketing blogger Patrick McKenzie recommends you start with a simple series of 6 emails that goes out over 30 days, and increases in "'salesness"' as time goes on.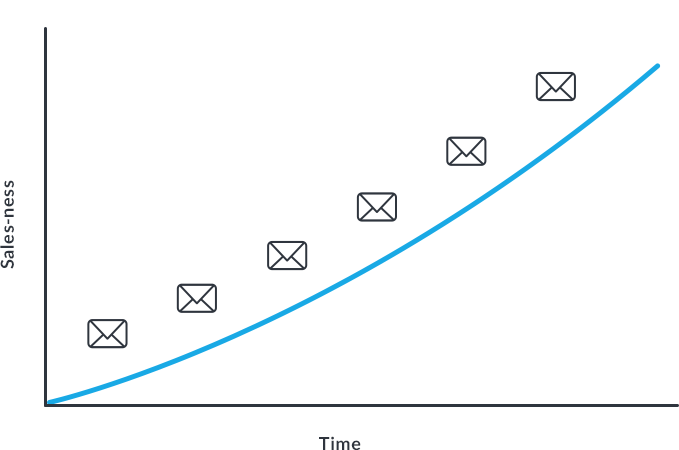 The email flow he recommends is as follows:
The problem email – possibilities of replacing their existing process with your product. This email should focus on educating readers on the problems associated with their current method and should barely mention your product.
The benefit email – A look at the benefits of using a product like yours to achieve their goals. This email should focus on the benefits of using your category of product (I.e. using email marketing tools over mass-mailing from Gmail) and outline how doing so can help improve their lives.
The transition email – Remember, every potential customer is currently using something else to do what your product could do for them, and the act of switching from that process to using your product is a barrier you need to overcome. This email should focus on outlining a simple and easy process for making the switch from their existing solution to using your product to solve their problem.
The tools email – An overview of the tools available to achieve what your product achieves, almost like a quick buyer's guide. This is the first time you introduce your product and outline why it's superior to your competition. Include a call to action to purchase or sign up for your product for the first time in this email.
The case study email – A case study on how one of your customers uses your product. Make sure to outline what problems it solves for them (tied to the problems outlined in the first email) and what benefits it brings them (tied to the benefits outlined in the second email). Include a testimonial from a customer and a call to action to signup for your free trial/free plan in this email.
The resources email – The final email. Suggest some other eBooks, blogs, templates, kits, etc. for learning more about whatever it is your product does. You can also try including a discount code or special offer in this email, as if you haven't converted them from the previous emails a special offer could help tip them over the edge.
While this is just an example, you can see that the focus is on educating prospects rather than making the hard sale.
Only once they have been sufficiently educated on the problems of their existing approach and the benefits of replacing it with a product like yours do you introduce your product and make an offer, at which point they are much more likely to sign up or purchase.
This kind of automated email series, when sent to the leads your business generates through your website and other marketing channels, can be a very effective way to nurture potential customers through to purchase, and help grow your business.
Promote your new blog posts
If you run a blog as part of your company's marketing mix, then email is one of the most powerful channels for growing your audience.
In fact, email counts for almost half of the traffic to new blog posts we publish on the Campaign Monitor blog, and according to popular blogger Neil Patel email subscribers are 3x more likely to share your content over social media than visitors from other sources.
So when you publish a new post on your blog, make sure you send your subscribers an email alerting them of the new post and enticing them to click through and read it.
HelpScout do a great job of this with their well-designed blog post email.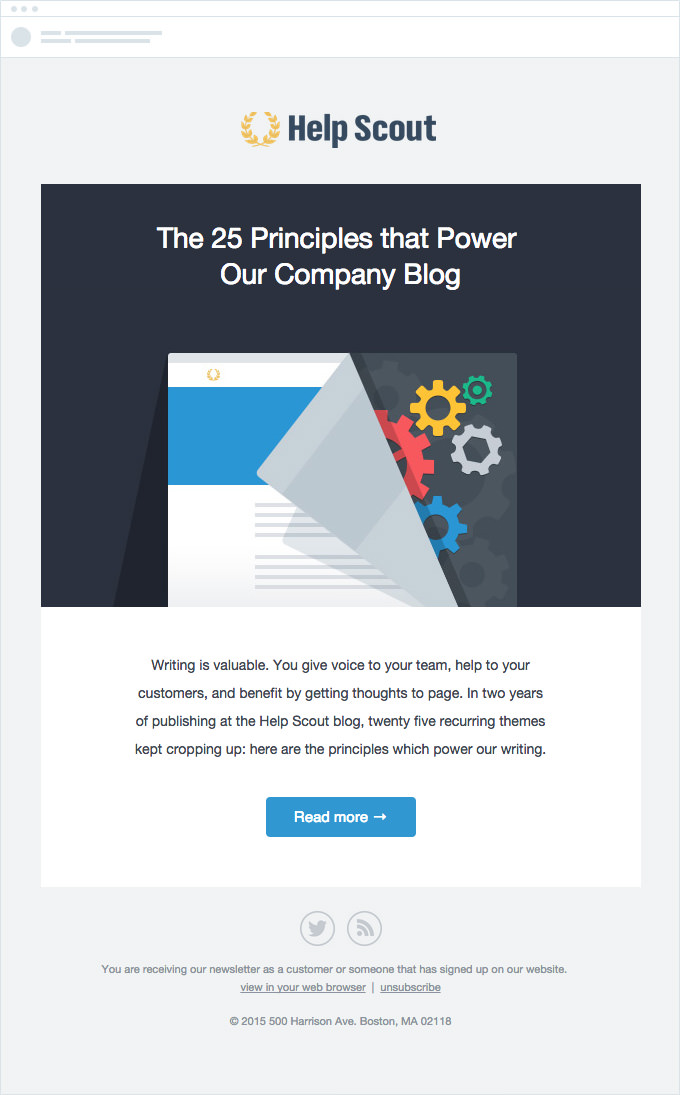 The email includes an engaging graphic as well as some compelling preview text that explains what the blog post is about. It also includes a prominent call to action to read the full post which leaves no doubt in reader's minds what the next step should be.
To do this for your own business, you simply set up an automated email that monitors your blog's RSS feed for new posts and then automatically pulls the content in and sends the email to your list of subscribers.
If you want to get more advanced, you can set the send frequency based on your recipient's preferred contact frequency. You simply set up the email to send either monthly, weekly or daily and it will automatically pull in any content that was published since the last time the email was sent.
This kind of campaign helps to grow your business by attracting subscribers back to your website to consume and share your content, keeping your business top of mind for when they are ready to purchase.
Create an email course
Offering an email course (a number of lessons on a particular topic delivered via a series of emails) can be a highly effective way to capture subscribers and educate them on a chosen subject matter.
When executed correctly, it helps to build your email list while showcasing authority and expertise that encourages people to eventually purchase from you.
Campaign Monitor customer CoSchedule do this effectively with their 6 quick tips email course.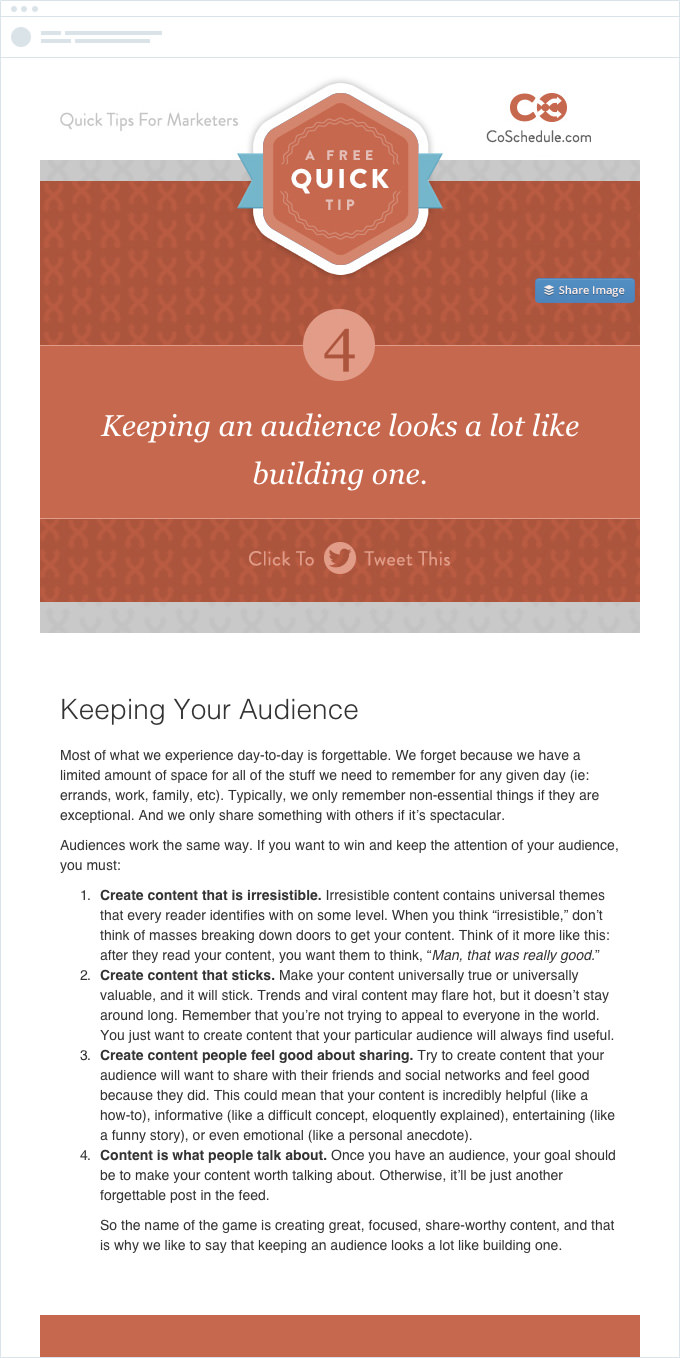 As you can see, the emails are well designed (making the content easily digestible) and each email contains a prominent call to action to get started using CoSchedule, helping to convert course subscribers into customers.
The result? CoSchedule has been able to add an extra 3,000 subscribers to their email list and convert countless readers into customers.
Setting up an automated email course like this is simple. All you need to do is add a form to your existing website or create a landing page to capture subscribers, then set up a basic sequence of emails to be sent out at different intervals whenever a new person subscribes to the list.
These emails can help to grow your business by showcasing your expertise and authority within your industry, and building people's desire to work with your company.
Promote your event
If your business invests time and money into running events, meetups, or webinars, then getting people to attend is critical to driving a positive return on investment.
Unfortunately though, even if you get a large amount of registrations only about 50% of those people will actually end up attending.
A great way to increase this is to send people reminder emails in the lead up to the event, and then a series of follow up emails after the event.
Analytics company KISSmetrics does a great job of this with their weekly webinar series.
Once a person has registered for a webinar, they receive a series of reminder emails in the lead up to the webinar time encouraging them to attend live. Then, after the webinar has concluded, they automatically get sent the slides and access to the on-demand version of the webinar.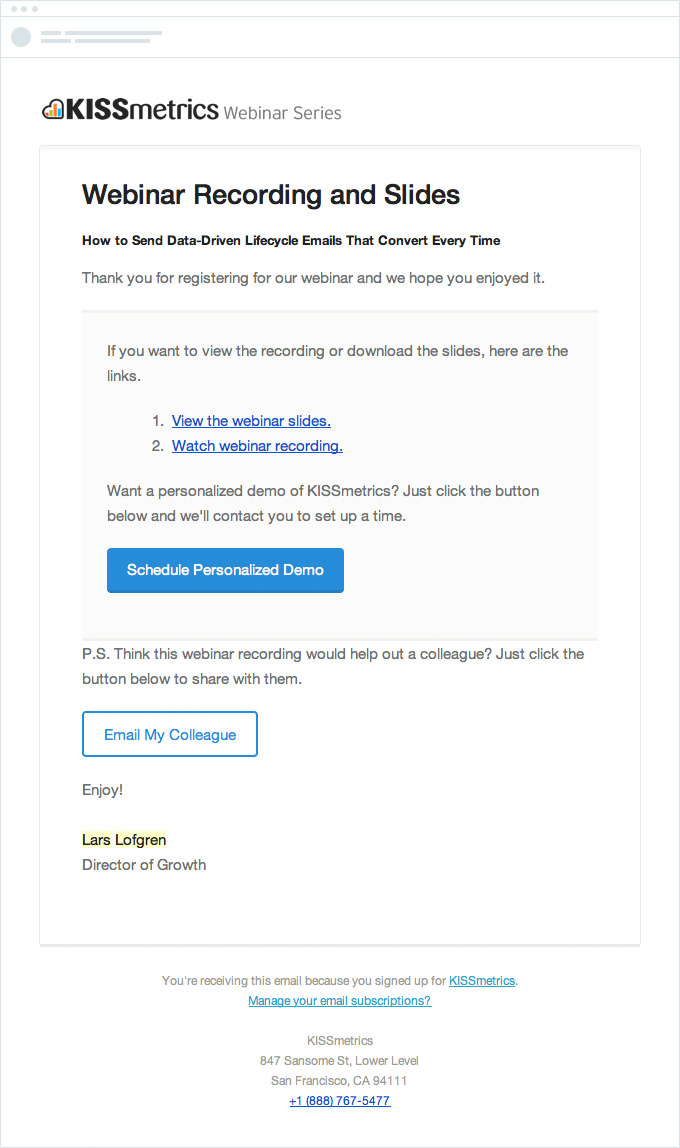 As you can see, the emails KISSmetrics send are well designed and include prominent links to the slides and recording, making it easy for readers to access the content.
These kind of email campaigns can be set up quickly and easily.
You simply pass the person's email address along with the date of the event into a list in your chosen email marketing tool, then create a series of automated reminder emails that go out in the days leading up to the event.
Once the event has completed, you can use the same event date field to send a series of follow up emails. In the case of a webinar, you can send slides and a recording like KISSmetrics does.
Given that most marketers are hosting webinars and events for marketing purposes, sending automated emails like these can help grow your business by ensuring the maximum number of people either attend the event live or see the recording, helping return the highest ROI possible.