So how do you build a high quality list?
Fortunately for you, there is a 2-step process for building your email list that is followed by many of the most successful marketers around.
Step 1: Create simple subscribe opportunities
The first step in building a massive email list is making it incredibly simple for people to subscribe.
To help you with this, we've outlined some of best ways we've seen businesses create simple subscribe opportunities across their website, social channels, etc.
Here are a few ideas:
Your website
If a lot of your customer interactions happen via your website, then including a subscribe form there is a great way to build your email list.
But where exactly should you include it? There are an almost infinite number of options, but here are some of the most effective we've seen:
Checkout or signup process
If your business sells something online, then you can use your signup and/or checkout forms to capture email subscribers.
Clothing brand Nau does a good job of this during their checkout process.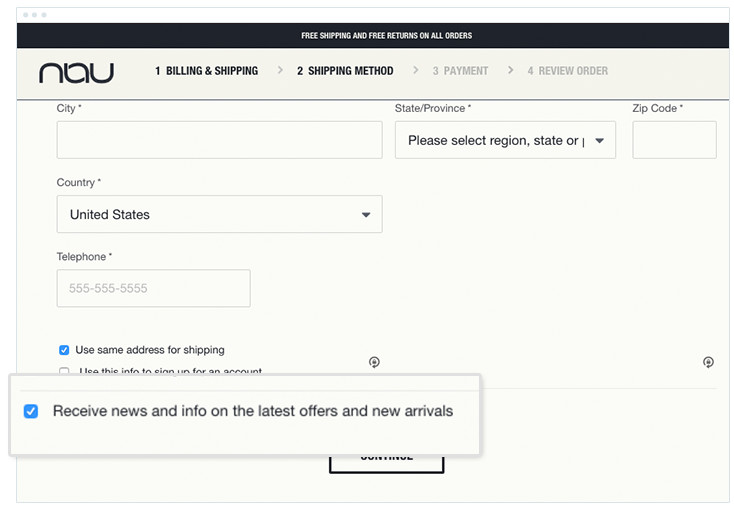 Given that people are already entering their name and email address as part of the checkout process, including a small tickbox to join their email list makes it super simple for people to subscribe.
Contact form
If your website has a form where people can contact you, request a quote, etc. then adding a subscribe tickbox is a great way to capture new email subscribers. These people are entering their details into the form already, and clearly have a strong interest in what you offer.
ConversionLab does a great job of this on their website, including a simple opportunity to subscribe to their newsletter at the bottom of their website's contact form.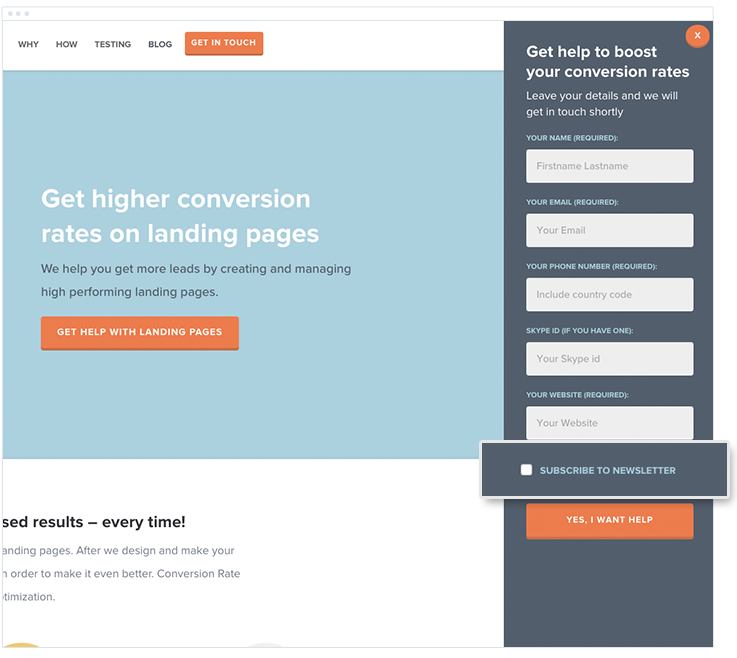 Blog
If you run a blog to help build your business, then this is a great place to be adding a subscribe form. In fact, people who subscribe to your blog will likely be some of most valuable readers, accounting for majority of your comments and sharing your content 3x more than other visitors.
Campaign Monitor customer Freshbooks do a good job of this. They offer a simple subscribe opportunity in a prominent popup that appears once you've been on their blog for a certain amount of time.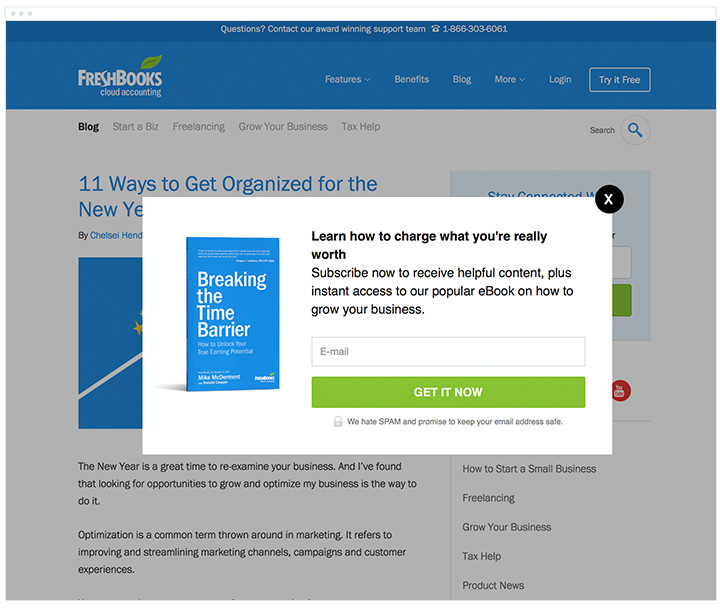 Your social channels
If you have built a following on social media channels like Facebook, then it's a good idea to try and convert them into email subscribers as well.
With Facebook intentionally limiting the number of times your posts appear in your followers newsfeed, it's becoming increasingly important to try to engage those people on more reliable channels, like email.
But how do you do it? There are a number of different methods for allowing people to subscribe to your email list from your social channel, but here are two of our favorite:
Facebook Subscribe Form
If you are a Campaign Monitor customer, you can easily add a subscribe form to your Facebook page using our Facebook Subscribe Application.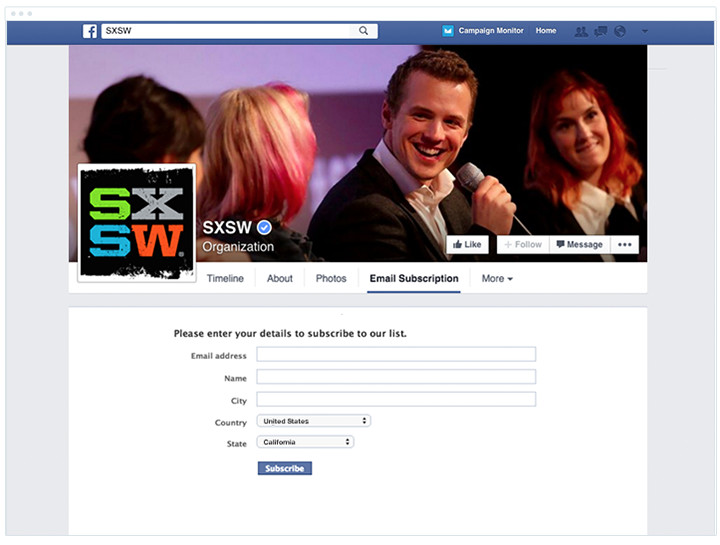 As seen on SXSW's Facebook page, the form creates a separate tab on your Facebook page, which people can navigate to, enter their details and join your email list.
Twitter Lead Generation Cards
If your business is active on Twitter, then a great way to convert your followers into email subscribers is using Twitter's Lead Generation Cards.
A Lead Generation Card is simply a link you include in your tweet that expands it out to allow people to subscribe to your list directly from the Twitter interface.
It pre-populates a user's full name, @username and email address (as entered in their Twitter account settings) into the expanded area of your Tweet, meaning they can subscribe without having to manually enter their details.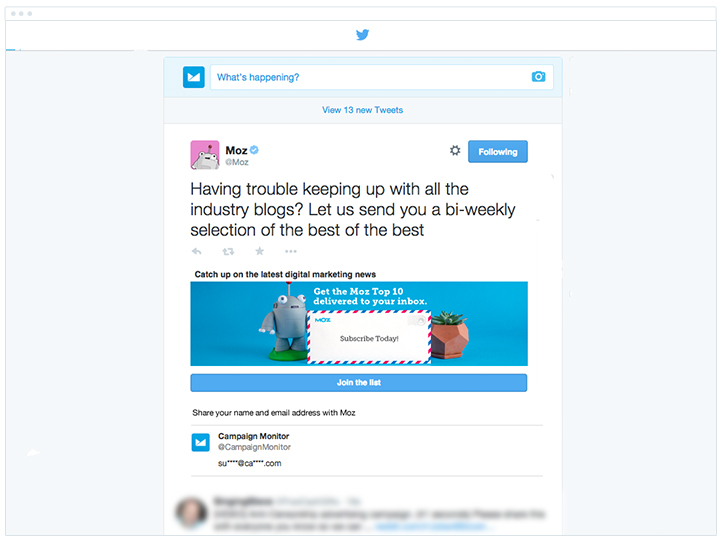 Some of the best ways we've seen this done are:
Tweeting about your list – Send out a tweet promoting your email list to your followers and ask them to subscribe for great new content. Include the link to the lead generation card in the tweet so that they can subscribe with one click.
Replying to people who tweet about your business – If people are tweeting about your business or your content online, then you can reply to them asking them to subscribe to your email list and include the link to the lead generation card so they can join with just one click.
If you are a Campaign Monitor customer, you can easily set this up using these instructions. You can even directly link it to one of your lists so that any email addresses you capture flow straight in.
Your email signature
Depending on the size of your organisation, you are probably sending hundreds or even thousands of emails to customers and prospects each month.
These personal emails from you and your team are often highly engaged with, and therefore the perfect place to promote your newsletter and get people to subscribe.
Heartbeat do a great job of this in their employee's email signatures, including a link to a landing page that makes it simple for people they do business with to subscribe to their email list.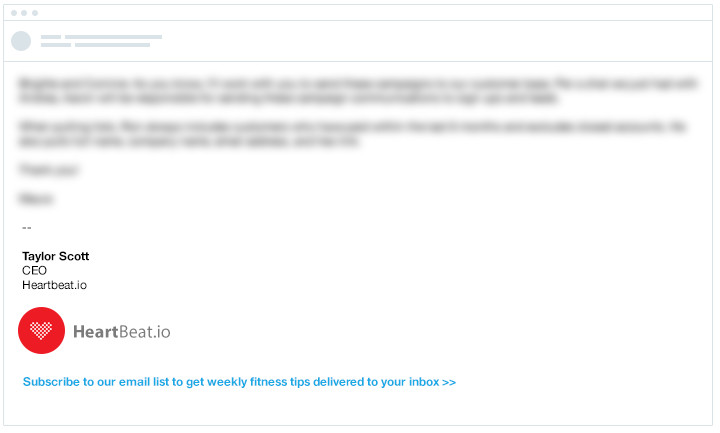 In-person
For some businesses, online channels like social media and the website simply aren't the most common customer touchpoints.
Retail stores for instance interact with their customers face to face much more frequently than they do online. So how can these businesses provide simple subscribe opportunities to people to encourage them to join their email list?
Here are a few things we've seen work well for others:
Ask at point of sale
By getting your employees to ask every customer at the point of sale if they'd like to join your email list (in return for a small discount on their purchase for instance), you're hitting every possible customer with a very compelling and simple offer.
Stationery company Paradise Pen Co. has seen considerable success with this strategy, collecting 80% of their customer emails in-store.
Paradise uses gift cards of small monetary amounts to incentivize people to subscribe to their list. They initially tried paper gift certificates, but when they switched to using plastic gift cards that could be redeemed online, gift card redemption rates jumped from 9.5% to 20%.
Not only did doing this build their email list, but with such high redemption rates and most users spending more than the gift card amount, they were able to drive sales & revenue as well.
Place a subscribe form in-store
One of the easiest ways to get started capturing email addresses in person is to set up a basic signup form in-store.
You can do this the old-fashioned way by simply placing a pen & paper on the counter and presenting your chosen incentive.
If you want to get more advanced and save yourself some of the hassle of manually adding your customer's email address to your email marketing software, you could use an app to turn your iPad into a beautiful email subscribe form.
Collect business cards
Manually writing down an email address is a pain, and can be a barrier to entry that prevents your customers from subscribing to your list.
Fortunately for you, many people have their email address on their business card and providing a method (such as a glass bowl) to drop their business card into is a great way to collect emails.
Step 2: Offer a valuable incentive
Now that you've made it simple for people to subscribe to your email list, then next step is to give them some incentive to do so.
There are an infinite number of ways in which you can provide an incentive for people to join your email list, and the right one depends on the type of organization you are marketing.
For instance, online fashion stores are likely going to have different incentives they can offer than a financial services firm, so the key is to pick out what makes sense for your business to offer based on what would resonate with your audience.
Some incentives you could use include:
Great content
If you have a blog or are using other content marketing techniques to attract visitors, then relevant, high-quality content is a great incentive to offer people to get them to join your email list.
This can take many forms, and we've seen many companies excel using a variety of methods.
For instance, the folks over at Buffer write some amazing content on social media marketing and productivity on their blog. The quality of the content they offer is a valuable enough incentive to entice 1000+ people each week to subscribe to their email list just to receive updates when new blog posts are published.
However, the team at ConversionLab take a slightly different approach. They offer an exclusive incentive (in this case, 7 conversion rate optimization tips delivered via email) that isn't available anywhere else on the web, encouraging people to hand over their email address to get the incentive and ultimately join their list.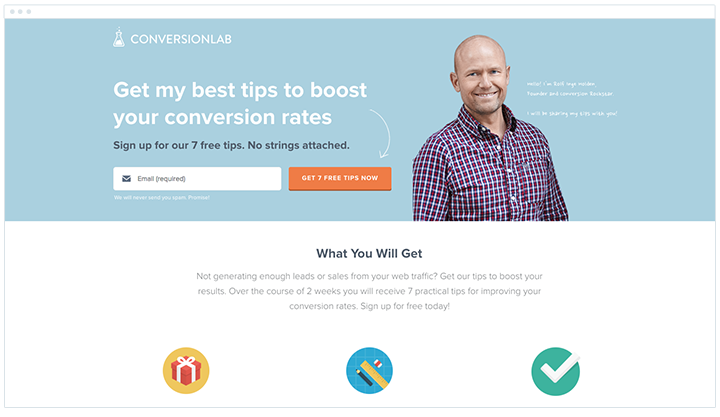 Regardless of what approach you take, the key thing is to ensure your content is high quality and relevant to your audience, otherwise it isn't enough of an incentive for visitors to give over their email address.
Discounts and offers
If you sell something online, then offering discounts or presenting various other value-added offers can be a great incentive for people to join your email list.
For instance, online cosmetic store La Mer offer a fantastic first-order discount to new visitors to incentivize them to join their email list.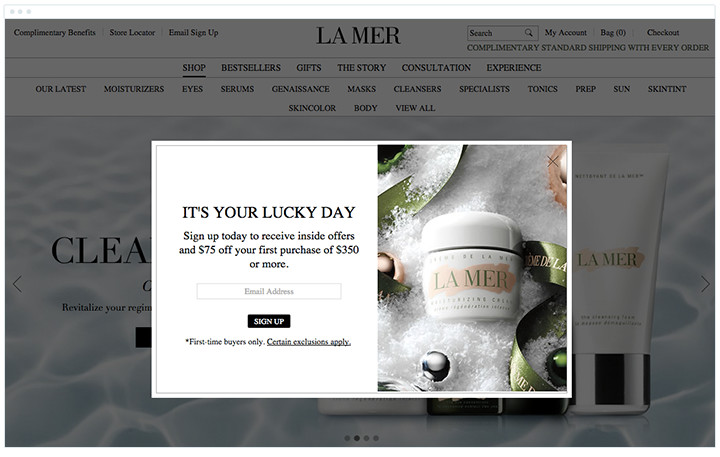 This is a particularly effective technique as not only is the potential to save money a great incentive to subscribe to their email list, but the actual discount itself is also a great motivator to make a purchase. So by offering first-order discounts to potential customers, La Mer is both building their email list and increasing sales at the same time.
Early access and exclusive promotions
If you have built up a reasonable level of brand love over the years, then offering early access and exclusives as an incentive to subscribe to your email list can be extremely cost-effective.
For instance, hair care company Oribe has thousands of loyal followers around the world and offers exclusive, early access to new products and promotions as an incentive to subscribe to their email list.