Do you send an email newsletter to help drive sales and revenue for your business?
You're not alone. In fact, according to our own research, email newsletters are still one of the most popular types of email campaigns marketers send.
But do you know the different elements to include in your newsletter to get the best results? If not, you could be missing out on valuable clicks and sales.
In this post, you'll learn you 6 key elements to include in your newsletter to help increase conversions and drive more sales & revenue.
What is an email newsletter?
An email newsletter is a regularly distributed email campaign that is generally about one main topic of interest.
Our own monthly newsletter is an example of this.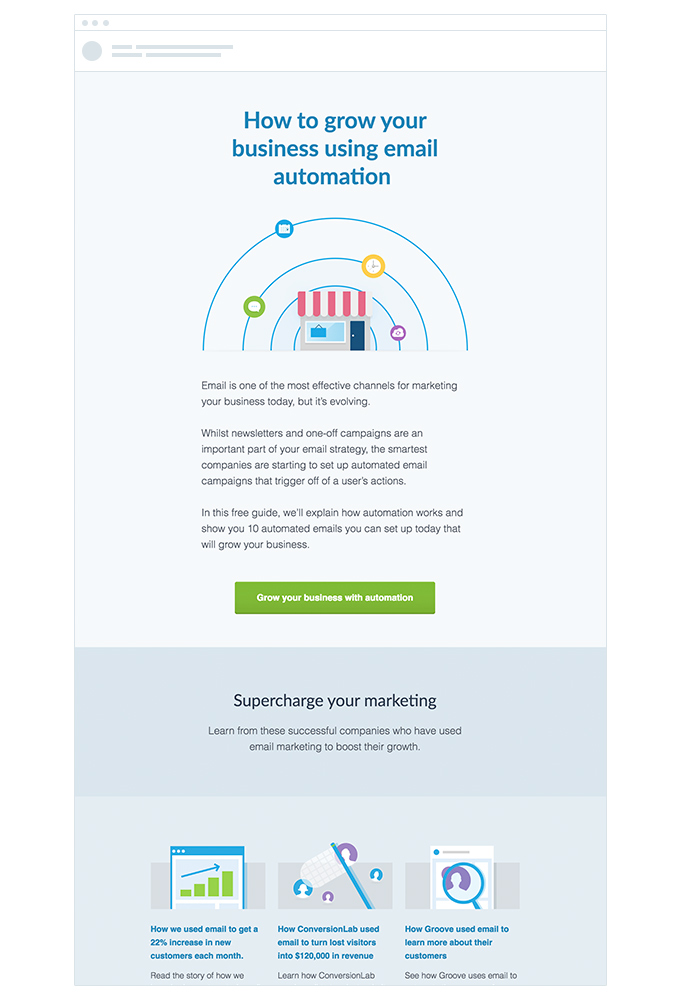 It's sent on a regular basis (every month) and contains links to a number of articles all about a common topic of interest: email marketing.
6 tips for creating a high-converting email newsletter
While every email newsletter is different, there are a few ways you can improve your own newsletter to help increase the amount of click-throughs you receive.
1. Use a familiar 'From' name
The 'From' name (along with the subject line) is one of the few things marketers have to leverage to get people to open their email newsletters.
The key to success here is to use a 'From' name your subscribers will recognize.
For instance, if you were to sign up for our email newsletter would you expect to receive emails from Campaign Monitor or from Aaron Beashel? Given that you've signed up for these emails from the Campaign Monitor website, chances are it's the former.
Campaign Monitor customer SitePoint does this well in their daily emails newsletter titled 'Versioning'.
This popular daily newsletter contains links to the best content on web design & development from around the Internet and uses the 'From' name 'Versioning'' to help people instantly recognize the newsletter when it hits their inbox.
So, when you're creating your next email newsletter, make sure to use a 'From' name that your subscribers will recognize and look forward to seeing in their inbox.
2. Break your newsletter into chunks
Research has shown that people don't read your emails campaigns left to right like a book, but instead, skim over them looking for things of interest.
Therefore writing long, text-heavy email newsletters isn't the best approach.
Instead, you need to break your email newsletter down into easily consumable chunks of information.
To illustrate, take a look at InVision's weekly email newsletter.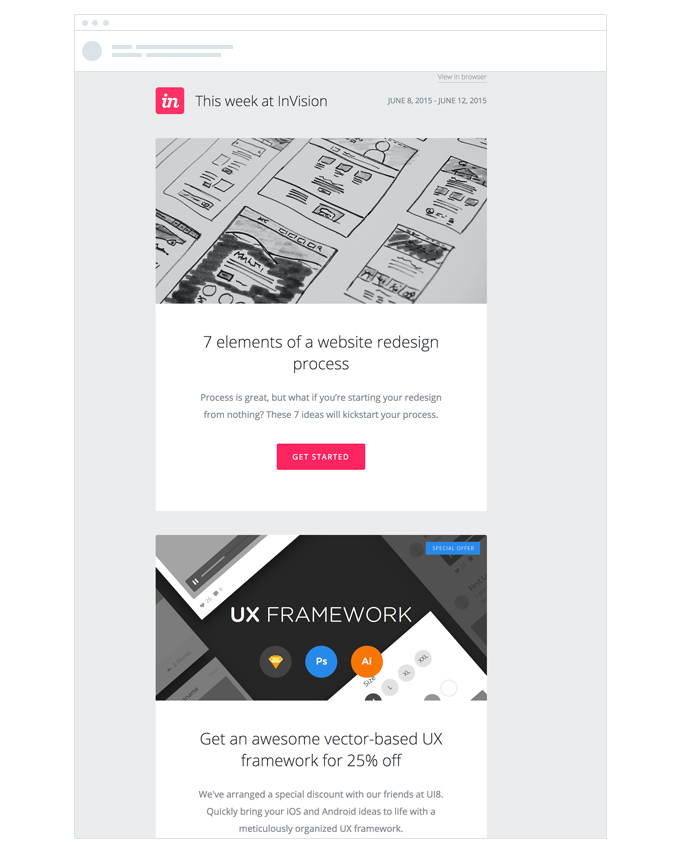 As you can see, InVision's newsletter utilizes card-based design principles to present each piece of content on separate 'cards'.
This breaks down what is a lot of information (their email contains 10 different stories) into easily consumable chunks that people can skim over to find stories of interest.
So when you're creating your next email newsletter, rather than overload your readers with paragraphs and paragraphs of text, break it down into easily consumable chunks of information that your readers can quickly scan to find content that interests them.
This will help draw them in and increase the chance they'll click-through to your website.
3. Use segmentation and dynamic content to personalize your newsletters
Rather than sending the same content to every one of your subscribers, you can segment your list and use features like dynamic content to show relevant stories and offers to each individual subscriber.
This campaign from Australian retailer The Iconic is a great example of this in action:
Although The Iconic also sells women's clothing and likely had countless new arrivals that week, they know I am a male, so only include information about the latest menswear in the newsletter that arrives in my inbox.
This ensures the content of their campaign is super relevant to me and increases the chances I'll click-through to their website and make a purchase.
So next time you're creating your email newsletter, think about the content and its level of relevance to different people on your list, and try using features like Dynamic Content to only show the right stories and offers to the right people.
4. Add compelling images & visuals for each piece of content
Research shows that the average time spent reading a newsletter after opening it is only 51 seconds.
Given this short attention span, and the fact that the human brain processes visuals 60,000 times faster than text, using compelling images & visuals in your email newsletters can be an effective way to appeal to your readers and get them to click-through.
Campaign Monitor customer BuzzFeed does a great job of this with their weekly Food newsletter.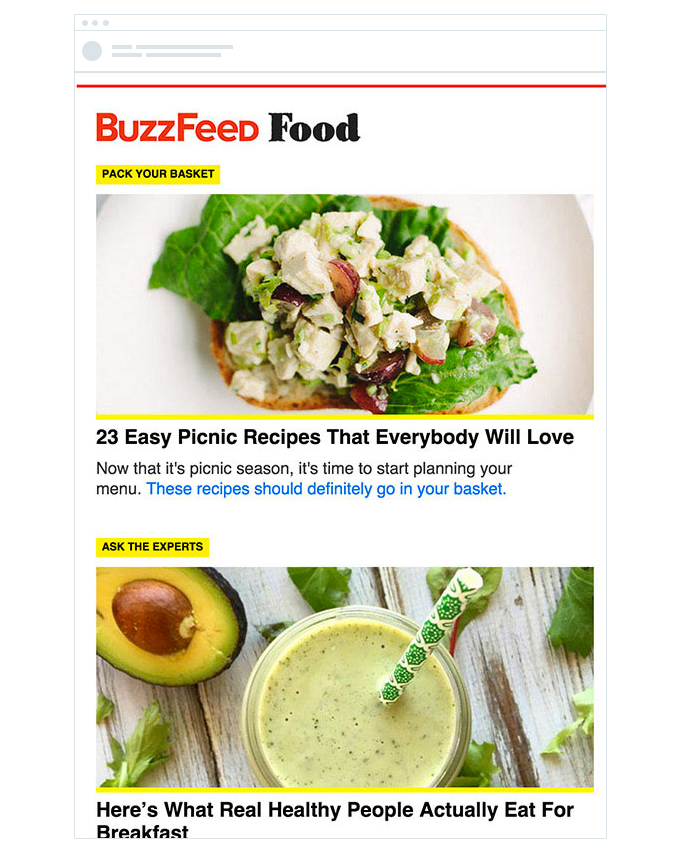 As you can see, they accompany every story in their email newsletter with a high-quality visual that gets people excited about the recipes and what they can cook up.
So when creating your next email newsletter, make sure to include high-quality images of the products or services you offer. This will help get your key messages across even if people only skim the email and don't read all the text.
5. Include benefit-focused headings and body copy for each content piece
In order to get people to click-through from your newsletter, you need to tell them exactly what benefit they are going to get from doing so.
The heading and body copy that accompanies each content piece in your email newsletter is the perfect place to do this.
We focus heavily on this in our own monthly email newsletter, which includes content from our blog and guides.
Each content piece we include in the newsletter is supported by a heading and body copy that informs the reader what they will learn from clicking through and reading the piece, and effectively increases their motivation to do so.
Next time you're crafting an email newsletter for your organization, make sure every piece of content you include has a benefit-focused heading and body copy to help motivate your subscribers to click-through.
6. Add a prominent call to action button for each content piece
In order to ensure you get the maximum number of click-throughs, it's important to include a prominent call to action for every content piece you include in your email newsletter.
You can do this using either a text link or a button. However, when we recently tested using a button in our email marketing campaigns (as opposed to a text link), we increased our click-through rate by 28%.
This is because buttons have a number of unique attributes text links don't, including:
Size – Often a button will be larger in size than a linked piece of text, catching the reader's eye
Design – Buttons often have design elements that links don't, such as shadows, gradients, and other effects. This can make them 'pop' off the page and stand out to readers
Color – Often buttons will have a different color to the background and text, and this contrast draws the eye and makes the reader notice them more
Campaign Monitor customer and email experts Litmus do a great job of this in their email newsletter.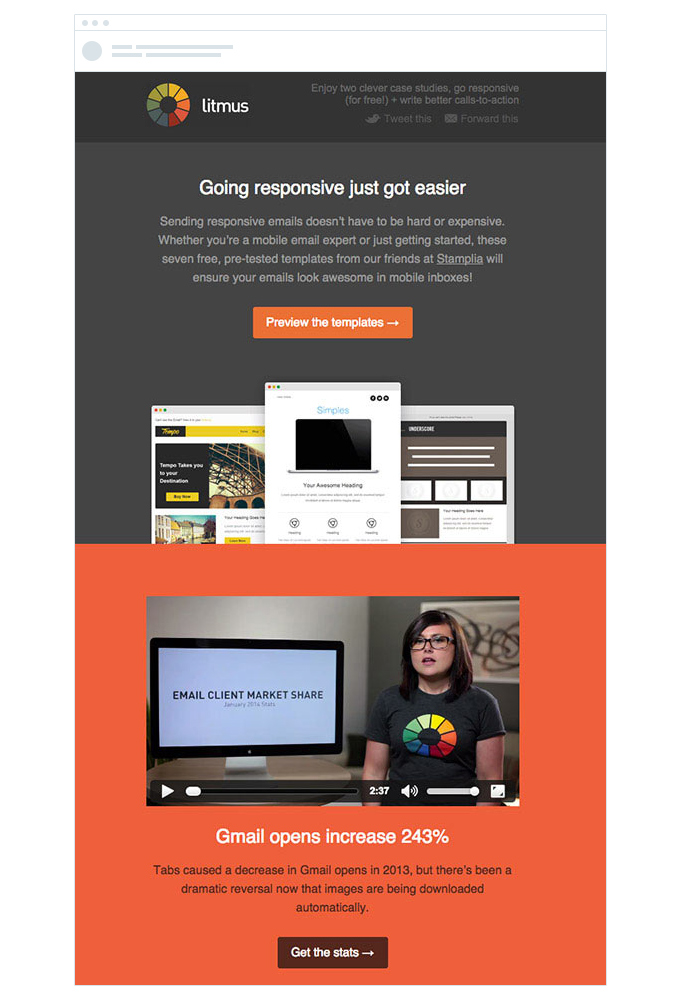 Each piece of content they include in their email newsletter contains a prominent call to action button that contrasts against the background color of that particular section to help it stand out and get noticed.
So when you're creating your next email newsletter, make sure to include a prominent call to action button that stands out and get noticed. It'll help ensure your readers know exactly what the next step you want them to take is, and make it super simple for them to do so.
In conclusion
Email newsletters are one of the quickest and easiest email campaigns you can send, and help keep your business top of mind, drive traffic to your website and increase sales.
And by following the 6 tips outlined in this post, you'll ensure that you get the best results possible from each and every email newsletter you send.