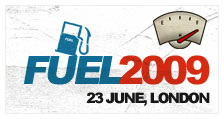 In a couple of months, the second Fuel Conference will be happening in London. Fuel Conference is run by our friends at Carsonified and is "a one day conference dedicated to learning how the web can empower your business". I'll be speaking, focusing on some of the unique and surprising ways the very old technology of email is being used in 2009.
Other speakers include Robin Christopherson (an excellent speaker I have watched before), Paul Boag of web design podcast fame and Tara Hunt, someone the Campaign Monitor team has been a fan of for years.
It is shaping up to be an awesome day if you want to find out how to use the web to really give your business a push, especially in these challenging times. If you are anywhere near by, definitely check out the conference site and consider coming along. It's only £95 if you buy right now.
I'd love to see some Campaign Monitor customers there, so if are going to be around, please get in touch and let me know. I'm also interested to hear about the kinds of email that you really love to receive, or stories of how you use email effectively in your business. It would be excellent to be able to share some of your success stories, so leave a comment below!