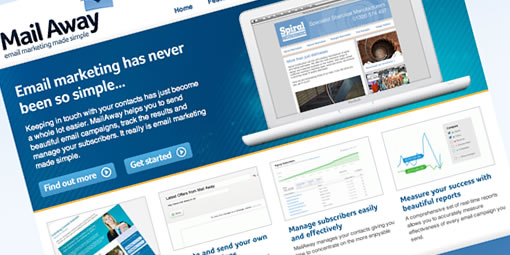 We love hearing from Campaign Monitor resellers, especially when they focus on, or take an interesting approach towards selling email to a specific niche market or industry sector. So it was a pleasure to chat to Anna Penrose about her new business, MailAway. With a focus on Small and Medium Enterprises (SMEs) in the UK, MailAway has worked tirelessly to make email attractive to folks who may not have large marketing budgets, or loads of staff.
Educating clients with user guides
"The video demos serve to show prospective clients how easy Campaign Monitor is to use."
In our case study, Anna explains that one of the first challenges in engaging clients from the SME sector is the lack of knowledge about basic email marketing concepts. To address this, the MailAway site has been designed to be not only very presentable, but detailed. Alongside sample reports, an email design gallery and clear-cut pricing information is a series of freely-available video user guides.
So, why video user guides? Not only do they give new clients a simple, visual idea of what this email marketing thing is all about, but it cuts back on the hands-on time that clients need to get started with their own campaigns. A great example of this is MailAway's 'A whole campaign in five minutes' video, which reassuringly explains the process of getting a campaign out in the time it takes to brew up a coffee:
Accompanying this guide are excellent resources regarding subscriber management, reporting and even the use of custom fields.
That's not to say that MailAway is entirely hands-off. Anna stresses the importance of offering solid email marketing advice to your clients, as it will pay off handsomely in the long run. If anything, the great results that their campaigns have experienced are a testament to the success of this approach.
Many thanks to Anna for her insight into marketing to SMEs. To read more on MailAway's approach to email marketing, check out our case study, or browse through our other customer stories from Xero, 37signals and more.