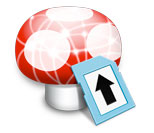 Campaign Monitor is targeted quite narrowly at web designers, something that came about because Freshview was originally a web design agency. There's a big skills cross over between designers and developers though, and we know a lot of you guys are doing a bit of both.
So recently, when we found out that independent Mac developer Manton Reece was using Campaign Monitor to send an email newsletter, we took the opportunity to ask him a few questions.
Why did you choose to send an email newsletter?
I had two goals for the newsletter: reach out to new potential customers and notify existing customers about the latest features of my product, Wii Transfer. For people who had already purchased it, I knew that some percentage of them are probably not using it very often — people's habits and needs change, or they just aren't aware of how the software has evolved. There had been so many significant improvements in the new version, even though it was a free upgrade I wanted as many existing customers as possible to know about the new stuff.
At the same time, I also had a list of people who wanted to be notified when a new version was available, even if they hadn't been ready to buy yet, as well as a separate list who had opted-in to the newsletter as part of a promotion I did last year to give away a Nintendo Wii. I thought some of these people at least represented a good opportunity for new sales.
How did you find using Campaign Monitor?
I first heard about Campaign Monitor from 37signals. When they recommend a product I usually pay attention, since they value the same kind of things in a web application that I value: clean design, responsiveness, and a fair price with no gimmicks.
What most struck me about it is the attention to all the little details that you don't really want to think about. How do bounces and unsubscribes get taken care of? What about duplicate email addresses across multiple lists? Sending email to thousands of people is, frankly, a little bit scary, so it's nice to have a system designed by people who have already thought about the problems you are going to hit.
I also wrote a quick script to export addresses from my own sales and giveaway databases and was happy to see that Campaign Monitor was smart about detecting fields and letting me label and keep track of custom data within the Campaign Monitor system. Pretty cool.
Did you get the results you were after from the email?
"Maybe the best thing I did was to create a special discount code to include in the newsletter for 20% off"
Yes, but to be honest I didn't have very specific results in mind that could be measured easily. I wanted to get into a routine of sending a yearly newsletter with announcements and discounts, and from that I knew that I would get some direct sales and hopefully a smaller wave of publicity and word-of-mouth.
I've found that marketing is not just about one specific thing you do, but more that the cumulative effect of all the things you do is what leads to steady sales or recognition.
I also learned a few things along the way that I will make sure to fix next time. For example, it was probably a mistake to put the company name in the email subject of the newsletter instead of the more recognizable product name. I also didn't track referrer links from the email directly, which would have provided interesting stats, especially since I knew that many of the people who had participated in my giveaway were Windows users and could not actually purchase my Mac-only product for themselves.
Maybe the best thing I did was to create a special discount code to include in the newsletter for 20% off. This allowed me to track exactly which sales came from the newsletter. Sometimes people just need a little reminder or incentive to become customers, so the newsletter plus discount is a nice solution.
Thanks to Manton for taking the time to answer our questions. Developers, especially small companies and independents, often have very close ties to their customers. When you only have a small number of products, it is really important to make sure each one stays relevant and useful.
Email newsletters are a really simple way to keep in touch with those customers, remind them that you are around and let them know what updates or new products you have coming for them. It can also help maintain interest during periods when you are not making releases, by giving tips or hints out, focusing on features or asking for feedback.
Manton has decided on a yearly newsletter, which is a pretty rare approach. He may find that a gap of that long between issues causes him some problems with people forgetting they had actually signed up and complaining about it. We'd suggest something more frequent, perhaps three times per year.
While the reporting from a single campaign is useful, having results from several campaigns to compare can be a lot more helpful – especially if you use HTML format, and can track link clicks. For example, seeing what people are actually most interested in, and watching your open rates when you make changes.
Even in plain text format, there is plenty of hassles in email sending that Campaign Monitor can take care of for a developer as Manton mentioned. Bounces, unsubscribes, duplicate address and more. Not to mention the API to play with!
Listen to Manton and fellow Mac dev Daniel Jalkut talk about promoting your software on Episode 7 of their Core Intuition Podcast. If you are a Mac using Wii owner, don't forget to take a look at Manton's cool Wii Transfer.
Are you a developer who uses Campaign Monitor? We'd love to hear from you. Leave us a comment (you can even pimp your products!).