It's that time of year again, when we dust off the blue beanies and stand up for the web standards cause. That's right, today is the Fourth Annual International Blue Beanie Day, when designers and coders worldwide look towards casting aside email display hacks, while tipping their caps to a more consistent, accessible web.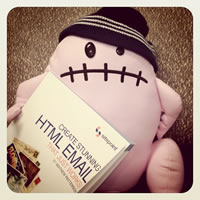 Why does our team take web standards support to heart? Well, like you, we wish for a day when testing a site doesn't involve a cat-wrangle of hacks and weird CSS implementations across half a dozen browsers. We wish for a day when HTML emails look as they should, in the browser, in Outlook 2007. We wish for a day when accessibility will become a priority. We also wish for a day when it will stop raining in Sydney…
To mark this day, Ned the support team mascot (pictured) is proudly wearing his blue beanie while clutching a copy of our seminal work, 'Create Stunning HTML Email That Just Works!'. He's still doing his regular support job today, of course.
If you want to be as informed as Ned, there are a couple of things you can do to show your support for web standards:
Take a happy snap of yourself wearing blue headwear and upload it (with a message of support) to the Blue Beanie Day 2010 Flickr pool
Add a blue beanie to your Facebook and Twitter icons (like we have)
Write up a heartfelt web standards haiku, tweet it with the hashtag, #bbd4 and go into the running for neat prizes in the Blue Beanie Day Haiku Contest
Finally, you can follow the action on Twitter using the #bbd4 hashtag. So, it's time to get aware, get your hat on and get the word out about standards support. Because really, we shouldn't still have to be dealing with 1999's awkward table-based layouts and weird padding glitches in 2010.