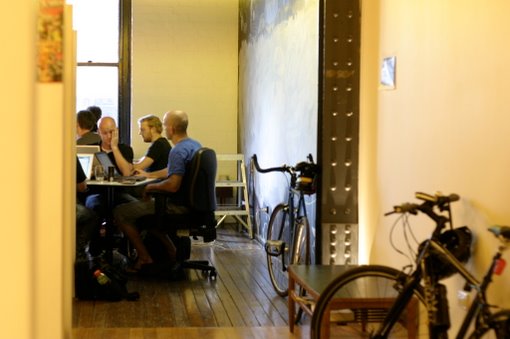 What do you get when you throw 15 designers, coders and web-types into an open room, with workspaces, couches, fast Internet access and a good supply of coffee? Jelly.
The notion of casual coworking in a Jelly, or plainly, spending the odd weekday with a like-minded group of people, has gained a lot of momentum amongst designers and web developers. Under the auspices of the Sydney-based design and development house, Agency Rainford, I decided to experience the Jelly phenomenon for myself.
Why Jelly?
Regardless of whether the idea of spending the day amongst your fellow designers sounds like inspiration-heaven or an infinite string of distractions, Jellies have gained appeal for number of reasons:
It's a refreshing day out-of-the-office with like-minded individuals
It's a day in the office for freelancers, home-based designers and people who don't work in a regular office environment
It's a great opportunity to mix and network, while actually getting some 'real work' done
The coffee is consistently fabulous
For most designers, attending a Jelly is simply a unique way to get into a different headspace, share ideas and do it all amongst great company.
But… Do you actually get work done?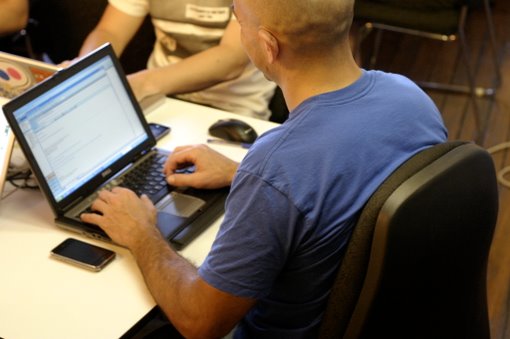 The amount of work that occurs at a Jelly is as much dependent on your personal working style, as that of your coworkers. One of Agency Rainford's Jelly regulars reflected on how little work occurred at their first Jelly, citing that the pure excitement of launching one of Sydney's first code-and-design Jellies, combined with sharing the space with a diverse, energized crowd, had a predictably negative effect on productivity. However, once a routine had been established, complete with recurring participants and standardized coffee breaks, the Jelly environment turned from novelty to one of constructive cooperation.
In attempting to commit to my regular day-to-day at the Jelly, I quickly discovered that I was only able to maintain concentration by leveling the surrounding conversations to ambient noise, no matter how interesting they were. Yes, there were silent stretches of 10-15 minutes, but the majority of the time the room was filled with fascinating chatter – often, directed at you. For designers used to operating in busy agencies, this may be no shock, but for the rest of us there were simply two options – either tune out and work, or sport a serious pair of headphones.
Another consideration soon arose. I was away from my desktop machine – and didn't have access to my drives or the intranet. Although there was no critical need to access either resource, it did highlight that a degree of readiness is necessary, especially if you don't regularly work away from the office.
After a hectic morning of people walking in and out with laptops, various introductions and a collective curiosity as to what everyone else was working on, things did settle into a steady hum. The conversation continued to ebb in and out for the rest of the day, but with more purpose and less YouTube breaks.
It is possible to get a solid day's work done at a Jelly, but for most participants, that's not entirely the point – just as important are the social and collaborative benefits, from brainstorming a new idea, learning how you can do something better, or simply meeting other designers.
So, how do I get started?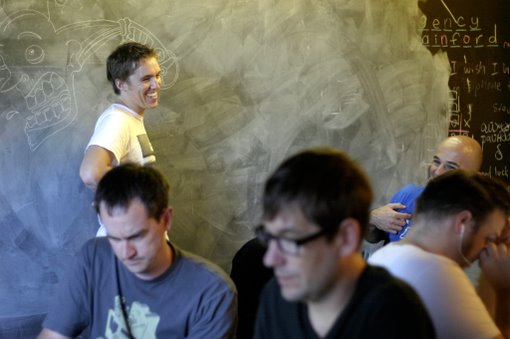 Interested in giving casual coworking a try? Jellies have spread to over 100 cities worldwide. Check the list of locations to find one near you.
I asked Tim Lucas, the organizer of Agency Rainford's Jelly for his advice to those planning on starting their own Jelly. His response was to keep it simple, regular and genuine. If you limit the scope of your Jelly to a manageable number of participants and simple workspaces, maintain a regular Jelly schedule, mindful of meetings and other work commitments you have on, and foster a genuine sense of community, then your Jelly will soon populate and often, maintain itself. Read more on how to host your own Jelly.
Casual coworking may not be for everyone, but if you're a designer who enjoys being able to work remotely and is open to spending a day collaboratively working, then there's a good chance that you will be hooked. Personally, I found that not only was it a great way to meet a diverse and engaged group, but learn more about my craft and still get a satisfying amount of work done, too. After all, what's not to love about Jelly?
Many thanks to our friends at Agency Rainford in Sydney, Australia. Follow them on Twitter.
Do you host, or are you planning on organizing or attending a Jelly? We support a number of events for designers and developers via our Giving Back program and are keen to get behind your Jelly or event, too.