As many of you know, the new look Campaign Monitor web site we launched last December was designed by the extremely talented Jesse Bennett-Chamberlain from 31Three. We couldn't be happier with the finished product, which has received nothing but glowing praise from customers and other designers alike. If you're interested in the process behind the new design, Jesse has put together a detailed post on the Newism site (who coded his design and did an awesome integration with ExpressionEngine).
In his post, Jesse takes a look back at the early design iterations (there were loads) and walks you through how it evolved over time. For example, here's an early iteration for the front page that used a sliding panel approach to promote our main features.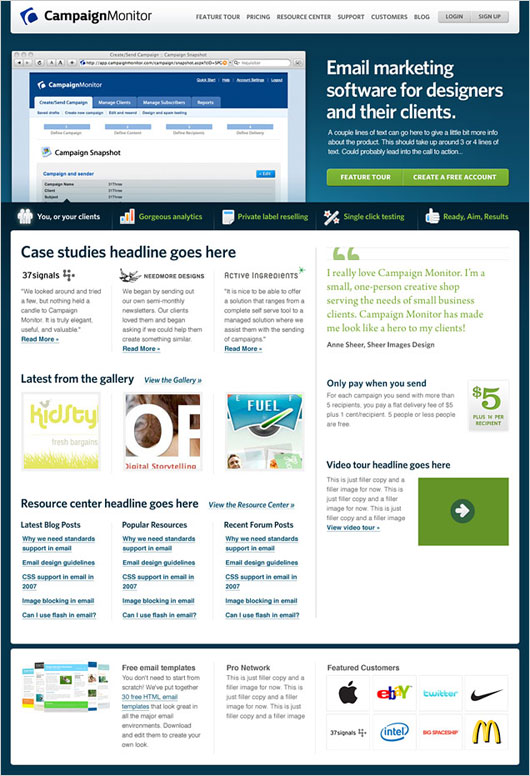 It was my job to communicate our needs to Jesse and give him feedback throughout the process. You'll notice from Jesse's post just how much the content, structure and general purpose of the site changed over time. Remember, this is only the front page you're looking at. Both Jesse and the talented guys at Newism were incredibly patient and professional throughout – I can't recommend them highly enough.
On a side note, I also want to say a big thanks to Cameron Moll, a good friend of Jesse and Campaign Monitor who gave some extremely constructive feedback that shifted us in the right direction at the right time.
Jesse's write-up is actually a guest post in the Newism blog series "Building Campaign Monitor". Not only does the series give you the chance to win almost $3,000 worth of sweet prizes, but it's also packed with great information on how the site was built and integrated into ExpressionEngine. Don't miss the first 2 parts in their series on Weblogs and Template Groups.